You can create easy holiday centerpieces perfect for winter weddings, holiday parties or home décor. See the post from Monday for my first set of ideas. Then grab your handy
6″ glass cylinder
to get started with some new creations!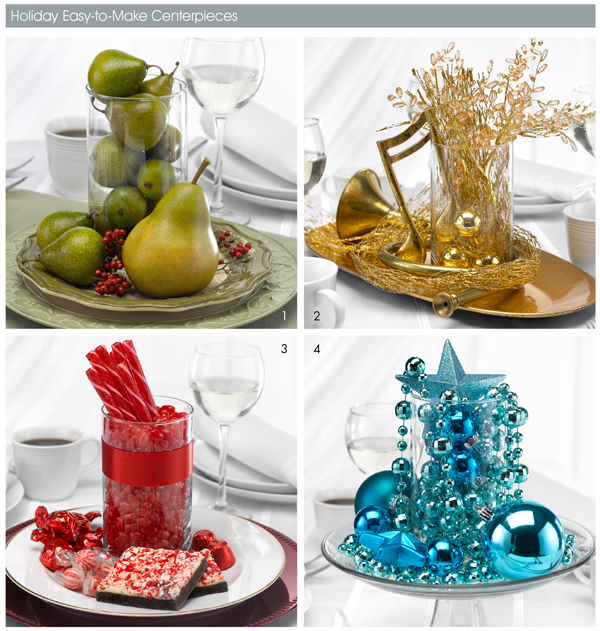 Looking for a rustic country look? Layer plates with different patterns but similar tones on top of a placemat. Fill the cylinder with fresh or artificial fruits. We used artificial pears. Tuck in a few berries and you have a beautiful centerpiece. The larger pear would be a great place to add a table number — either painted on or printed on scrapbook paper and attached with a decorative pushpin.
This gilded musical centerpiece exudes sophistication. We placed a brass horn with glittering gold netting on a gold, oval plate. Centered on the plate is a glass cylinder filled with small gold ornaments, gold beaded berry sprays, more gold netting and a gold music note ornament. For all you music lovers out there, ask guests to sing a song with the word "love" in it if they want to see you kiss!
Candy, mints and chocolate…YUM. This delectable centerpiece was created using a red charger under a white plate. Fill the glass cylinder with candies, peppermint sticks or other goodies and wrap a 1″ ribbon around the base. Sprinkle other candies or chocolates around the plate. This centerpiece can be used in lieu of favors. Online candy wholesalers offer a large selection of candies in many beautiful colors to match your wedding look. Order in bulk to save money.
A star-quality centerpiece in pretty shades of blue. Place a glass cylinder on a clear cake plate with raised feet for elegant height. Fill the cylinder with small ornaments in all shapes, textures and sizes. We've also tucked beaded garland into the cylinder and draped it around the cake plate and placed a few more ornaments on the plate.
Tip: Many of the decorations and embellishments used in these centerpieces can be found at your local hobby store. Take advantage of after-holiday sales to purchase ornaments, ribbon and holiday accents at reduced prices.
Do you have a favorite DIY centerpiece idea to share?