Looking for bright, fun colors to complement your spring wedding theme?
Consider tangerine or canary. These colors are alive with energy and will bring a fresh, bold look to any floral bouquet. Use the color lipstick, similar to fuchsia, if you want the same brightness but prefer a pink.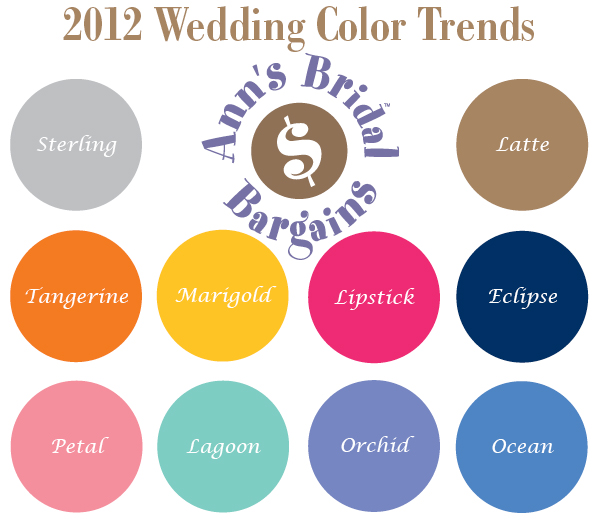 If you want a color just as bold, but not quite as bright, consider the deep and engaging eclipse. It is more interesting and visually appealing than a traditional navy or midnight blue, and it provides depth and texture — a great accent color! Use coordinating ribbons to make a color statement that gets attention without extensive cost.
Pretty pastels are also available in the Spring 2012 lineup. These include petal (a light and dusty combination of pink with a hint of coral) and Lagoon (a unique blue-green color with a hint of turquoise).
Prefer to stay classic? Orchid is a beautiful hue of purple that makes a great traditional shade for any wedding. Ocean blends blue and purple, creating a soft color that's incredibly pleasing to the eye. Let's not forget the neutral and earthy tones such as sterling and latte, both of which are excellent accent colors.
A few of these colors were highlighted during Floral Week. Check out the looks we pulled together in the hibiscus post, the orchid post and the daisy post.
Are any of these YOUR wedding colors?