Wedding Planning Checklist: Section 6: Part 3
Respond cards are the most common way for couples to tally an accurate guest count, which is essential for the caterer and for seating. Although a small part of the invitation ensemble, respond cards are an important part. They save you money on food and they save you the embarrassment of not having enough seating. Here we've compiled a few things you should know about respond cards before sending them with your invitations.
1. Respond cards are most common, but R.S.V.P. services are also available. You are given an account with a phone number, which you include on your invitations. Guests respond via the phone number and the service manages your guest list for you. To learn more about this option, check out the original R.S.V.P. service, www.rsvpservices.com.
2. Respond cards are usually sold separately from the invitation, although Ann's does offer value sets that include a respond card or respond postcard with the invitation, like this Dramatic Accent Invitation in Amethyst with Free Respond Cards.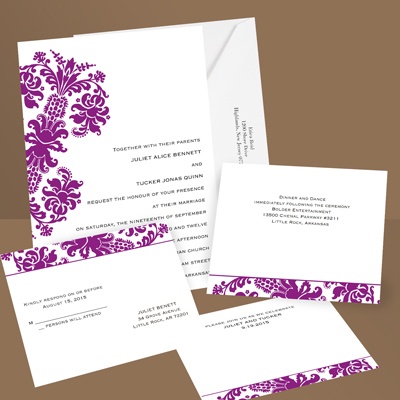 3. Consider response postcards. They're simple and economical. With postage always on the rise, the savings can really add up.
4. All respond cards include a simple verse, such as "Please respond on or before [date here]," and a place for guests to write their names. You will often see this in the form of "M" with a blank line after it. The "M" begins the guest's title (Mr., Mrs., or Miss) and the name goes after. Many of today's respond cards include a space for number of people attending, or number of "accepts" and number of "rejects."
5. Menu choices are included on the respond card if you decide to go that route.
6. The respond-by date should be three to four weeks before the wedding. You will need time to contact guests who have not responded and to create a final guest list. The caterer will need the head count two weeks before the wedding.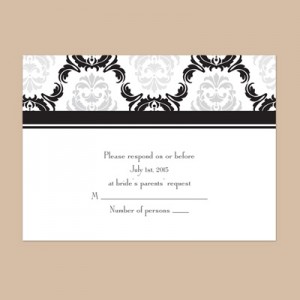 7. Respond cards come with printed respond envelopes for no extra cost at Ann's. The respond envelopes should include the return address of the person keeping track of the guest count. This could be the bride and groom, or the task could be assigned to a relative or close friend.
8. Respond envelopes should be pre-stamped, always. This is for your guests' convenience and your own. You want to make responding as easy as possible since your food and seating depend on it.
9. Keep track of the responses by maintaining a numbered guest list. Write a number on the back of each respond card that corresponds with the appropriate guest on your guest list. This allows you to verify that you're marking the correct person just in case you can't read their handwriting.
10. Once it's time to assemble your wedding invitation ensemble — respond card and all — read, Helpful Tips for Assembling/Addressing Your Invitations.