Does the busy bride really have time to shop? She does now! Ann's mobile site allows you to shop easily, anywhere at any time.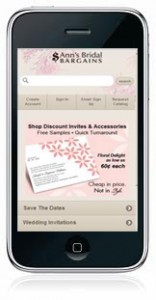 Like when you're…
waiting at the gown fitting.
at the baker's and inspired to find the perfect cake top.
having coffee with your moh, you can both shop bachelorette stuff.
in the travel agent's waiting room — check out destination wedding invites!
listening to your mother-in-law discuss her guest list additions, at length. (did we say that?)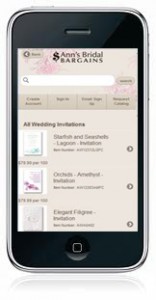 What other nifty things can you do on the mobile site?
Save your favorites when you create an account.
Sign up for email alerts about great sales and product exclusives!
Check back daily to see what's new.
Request a FREE catalog.
Okay gals, it's time to get on the phone and shop!