Jake and Ellen were married on December 17, 2011, at the Grand Event Center in Northfield, Minn. The wedding was beautiful, but what you really want to know is how the dessert buffet table turned out, right? Here are a few pics for you to take a peek: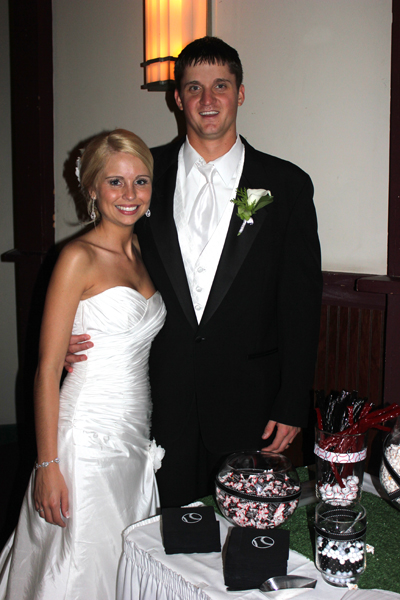 Here's the happy couple next to their baseball-themed buffet table. The look was inspired by the Game-Time design created by our very own party planner, Carynn. See the other looks Carynn came up with when you visit our post, "Check out the looks we pitched to Jake and Ellen."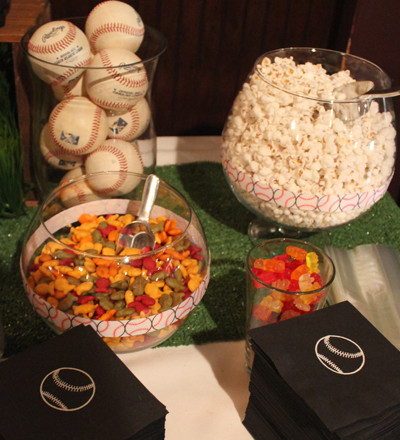 We LOVE how the black and white wedding napkins add a touch of dramatic style to the spread. The fish bowls of treats with scoops and the vase of baseballs make great additions to the setup.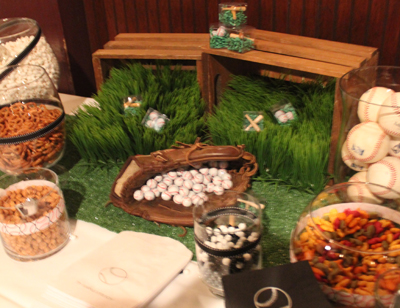 The glove filled with baseball candies is super clever, and the wooden crates lined with fake grass create a fun backdrop for the entire table as well as a fun spot to display more treats.
Personalized favor bags are easy to arrange and easy to use, making them a big favorite with today's couples. Plus, they create a nice, clean look as a part of this buffet spread.
We're quite pleased here at Ann's Bridal Bargains with how well the dessert buffet table turned out. Thank you so much to Jake and Ellen for letting us be a part of their special day, and thank you to everyone who followed this Real Wedding Story.