We received more than 100 comments filled with fantastic budget-savvy advice for wedding planning, and it was really difficult to narrow it down to three winners. If you haven't read all the great advice, you're in for a treat! These tips are bound to save you a few bucks so you can splurge on other things.
Congratulations to…
#1. Cynthia L.
"I have been finding wedding vendors and great wedding bargains through charity events and online auctions. I bought a brand new designer wedding gown at a great price from the Brides Against Breast Cancer Tour of Gowns when it came to my city in October. I got a steal on a photographer, DJ, wedding planner, and invitations from the Wish Upon a Wedding online auction which is a non-profit wish granting organization providing weddings and vow renewals to couples facing terminal illness. You can also find some great wedding-related items on "Bidding for Good" online charity auctions in your local community. I recently got a great deal bidding on a wedding hair/makeup package from a local community childcare center auction! Not only do you save a lot of money, but the money you do spend will go to some great causes so you feel really good about it!"
#2. Erin G.
"My best piece of advice: join forces with other brides if you can. A friend and I are both having our weddings next winter, but a few months apart. So far, we've used the "lure" of booking two weddings to get reduced rates on DJ, limo, and a florist. If you don't know anyone getting married, try finding someone online on Facebook or a blog site. It is totally worth it if you can group price!"
#3. Emily
"I found that NOT mentioning the word "wedding" made a HUGE difference in the price of things! A lot of vendors try and capitalize on weddings, so I always told people that we were just planning a "party" whenever we could. Our photographer, florist, and DJ obviously know that we're planning a wedding, but our linen rental people, for example, think we're just having a really big party. I priced them out twice. When I called to get a quote for a "wedding reception," the cost of our linens was THREE TIMES AS MUCH as when I got a quote for a "get-together." So whenever you can, leave out the word wedding. Along the same lines, look in places that aren't geared towards brides whenever you can. A "wedding photographer" is going to cost you a ton of money. A photojournalist is used to capture events without intruding as much as possible and they're usually much less expensive. Our photographer has plenty of wedding experience, but it's not his only income, so we're getting high-quality work for a fraction of the cost."
That's not all! Here are some great runners-up we have to mention:
First, Kathryn B. suggested to "pay for everything with a credit card. By law your credit card purchases are protected so if a vendor goes out of business after your deposit and before your big day, you can get your money back." GREAT protection advice!
Kelli reminds us, "don't stretch your budget to the end of its life without including the gratuity you'll be giving people for their services or the service charges and taxes that aren't included in that already-pushing-it price."
Kendra shared a great site where brides can buy gently used and/or never used items from other brides: http://ruffledblog.com/recycle-your-wedding/browse-listings/. She also says, "DIY, DIY, DIY!"
And, finally, Grace D. set up a savings account that will withdraw a set amount directly from her checking account every time she gets paid, AND gets interest! She says, "it really helped my budget, and every penny coming out my account goes for something for the wedding."
Great advice, everybody! Need more tips? Read all the budget-savvy advice.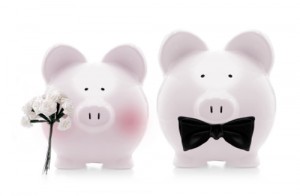 Cynthia, Erin, and Emily — watch out for an email with your $50 off at Ann's Bridal Bargains to spend on ANYTHING you like.