Need to maximize your invitation budget? We hear you! Our Style Expert, Robin, created a few invitation options that allow you to get more for your money.
Option 1: Wedding invitations with FREE respond cards. Yep, you heard us right! These invitations are bundled as value sets so you get the invitations with blank outer envelopes and respond cards with respond envelopes all for one great price. This peacock-inspired wedding invitation is just $99.99 per 100. You can spice it up a little by choosing two fonts (shown below) for free, or change the wording color (just $7.00 per piece). Add a colorful lined inner envelope for a snappy finishing touch. Value sets are even available with matching thank you postcards. With postage rates increasing, postcard thank you notes add up to big savings.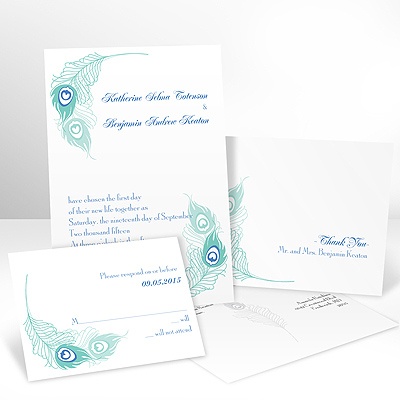 Option 2: Wedding Invitations with FREE Respond postcards. In this bundle, you get invitations with blank outer envelopes and respond postcards all for one great price. Not only do you get FREE respond postcards in this bundle, you also save money on the postage you have to include with your respond cards. Again, you can spice it up with combination fonts, changing the wording color or adding a lined inner envelope. Matching reception cards are also available.
Gotta love 2 for 1s!