Tangerine orange wedding invitations are super popular this year. Pair it with a few other vibrant hues like fuchsia, scarlet or canary yellow and you've got a hot color combo for your wedding! Try these affordable wedding ideas for incorporating both wedding colors into your invitation ensemble.
• Have your enclosures printed in a different color than the invitation.
• Get your wedding invitation design printed in your primary wedding color and the wording in your secondary wedding color.
• Print address labels in your secondary wedding color to add a little pizzazz to each envelope.
• Order personalized wedding napkins in your secondary wedding color or in both colors for an eye-catching design element at your wedding reception.
• Add a touch of luxury to every ensemble by ordering lined inner envelopes in your secondary wedding color.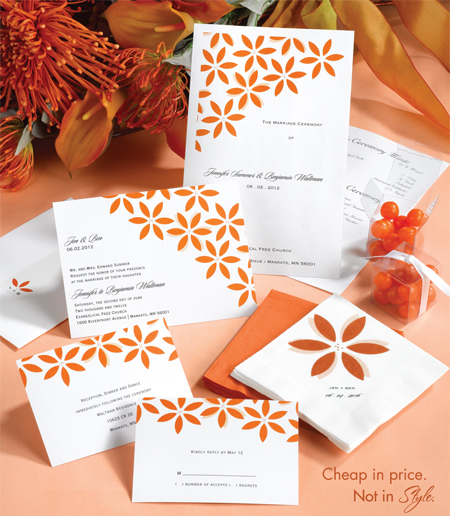 Speaking of orange wedding invitations, our Tangerine Floral Delight collection is featured in the March/April issue of Brides magazine. Get yours today and find our ad with a special offer. And be sure to request a FREE catalog from Ann's for pages and pages of affordable wedding ideas and products!