Have you been searching high and low for the perfect wedding invitation? Do you want something truly unique, but for the right price? Think doing it yourself is the way to go?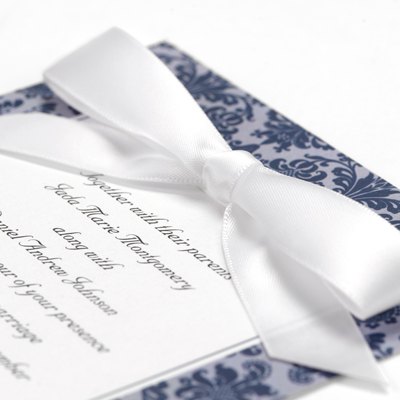 If you have never DIY-ed before, this is a must-read! Consider the following:
1. Creating a design is just the beginning. You'll also need to format the design with your wording for the invitation and all enclosure cards to make everything print ready.
2. You'll more than likely have to buy extra paper and multiple ink cartridges — all of which can add up to more than the cost of professionally printed wedding invitations.
3. You may have to go to multiple locations to gather enough paper and embellishments.
4. Plan to print every invitation one-by-one, starting with lots of test prints due to possible formatting mistakes or printer malfunctions. And then it's on to the enclosures!
It's easy if you have us print your top layer for the invitation and enclosures. Plus you can get your ribbons and embellishments from Ann's. Check out the 3/8" and 5/8", 100-yard satin ribbon rolls, 7/8" 25-yard chiffon ribbon rolls, pearls, colored rhinestones and stick-on bows.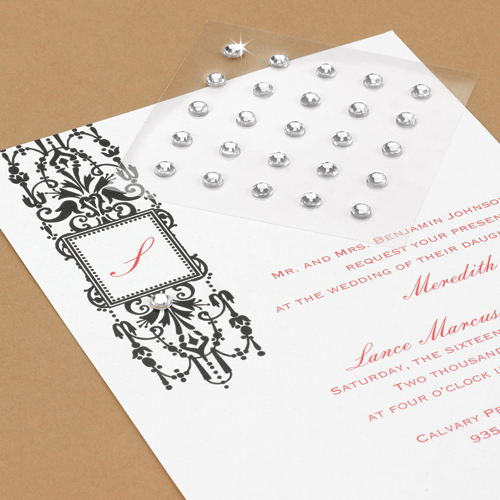 Request a free sample of your favorite wedding invitation, then decide how you'll put your own masterpiece together. Consider the size of the embellishments you'll be stuffing into the envelope, and be sure you have room! If not, you'll need to find larger outer envelopes — or just give us a call before you order. We'll give you a larger envelope than what the invite comes with. We can also print your return address and guests' addresses! I can hear the rejoicing now…
Check back Thursday for DIY wedding invitation ideas from Carynn!