Your wedding programs should be just as much a reflection of your personalities and style as your wedding invitation. That's why we've created wedding programs that coordinate with our popular wedding invitation designs. And we offer each design in two styles so you can choose which one best fits your needs.
Style 1: DIY Wedding Programs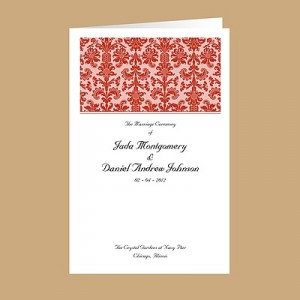 Our DIY wedding programs are personalized on the front and blank inside so you can do your own printing at home. We print the front with your choice of beautiful design and up to eight lines of personalization, which leaves both inside panels free for you to print your ceremony details. Add a few DIY accents with our embellishment ideas below.
Style 2: Double-Sided Wedding Programs
We print it all for you! This includes eight lines on the front and up to 25 lines on both the right and left inside panels. This is the best option for saving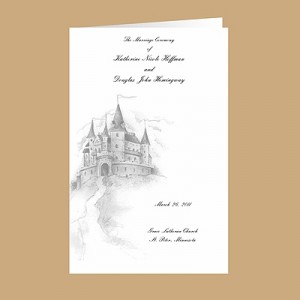 yourself time and effort before the wedding, especially if you find you're down to the wire and need to get quality wedding programs created quickly and easily. We may print it, buy you can still add your own unique touches with our embellishment idea below – and for only $20 more if you need 100!  It's a steal.
Make It Your Own
• Add colorful satin ribbon or chiffon ribbon for a luxurious look without high cost.
• Add stick-on satin bows or chiffon bows for a charming accent that's easy to apply and perfect every time!
• Accent elements of the design with sparkling rhinestones — a touch of glamour that's sure to get attention.
• Create the ultimate in DIY wedding programs by giving it a scrapbook feel with patterned layers, textured ribbons, charms and more.
• Add an insert to make your wedding program longer. Your local hobby store will have matching paper you can print at home. Secure inside the program with ribbon along the binding.
Check back Thursday for tips on what to include in your wedding program.