You have two months to go before the wedding, ceremony details are coming together and you need to get a wedding program created and printed. What does that include? Take a look at our overview below to find out, and feel free to change it up wherever you like.
Front Page
• Normally the front page will include the names of the couple, the wedding date and the place in which you are being married.
Inside Panels
• A thank you message to guests or memorial note for loved ones who have passed are often placed on the first inside panel.
• Continue the program by identifying the officiant, parents, members of the wedding party, and friends or family who are serving as soloists or readers. Include each person's role, name and relation to you.
• List the titles for all ceremony music, including the processional, service and recessional music. Programs also offer translations if needed.
• If applicable, provide wording for group prayers or readings for guests to follow.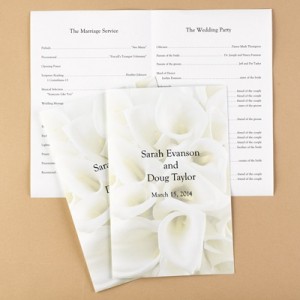 Back Page
Blessings, prayers, favorite poems, literary excerpts, etc., are all commonly placed on the back page as a nice conclusion to the program. You may also use this space to request no photography or video be taken during the ceremony.
More Tips
• Finalize and print programs about one month before your wedding
• Have ushers or designated children hand out programs as guests enter the ceremony venue. Or, place programs in baskets beside the doors for guests to grab as they enter.
Unique Wedding Program Ideas
• Consider adding a personal touch to your wedding programs with photos, a short story of how you met, or how the groom proposed.
• Tell guests more about your attendants — how you know each other or why that person was selected. Maybe add a humorous quote from each attendant.
• Create two wedding programs — one for the adults and one for the children. The children's program could include a coloring sheet, word find or dot-to-dot. Include crayons tied with coordinating ribbon and children are sure to stay happy!
• New Idea: Create a reception program. Today's couples are doing all they can to be gracious hosts, and reception programs are great for letting guest know how long the social hour will last, when the cake will be cut, when the dance will begin, etc.
Read Monday's post on how to make wedding programs your own!