Wedding Planning Checklist: Section 6: Part 4 continued
Today we're covering gifts for the parents. Show Mom and Dad how much their love and support means to the both of you.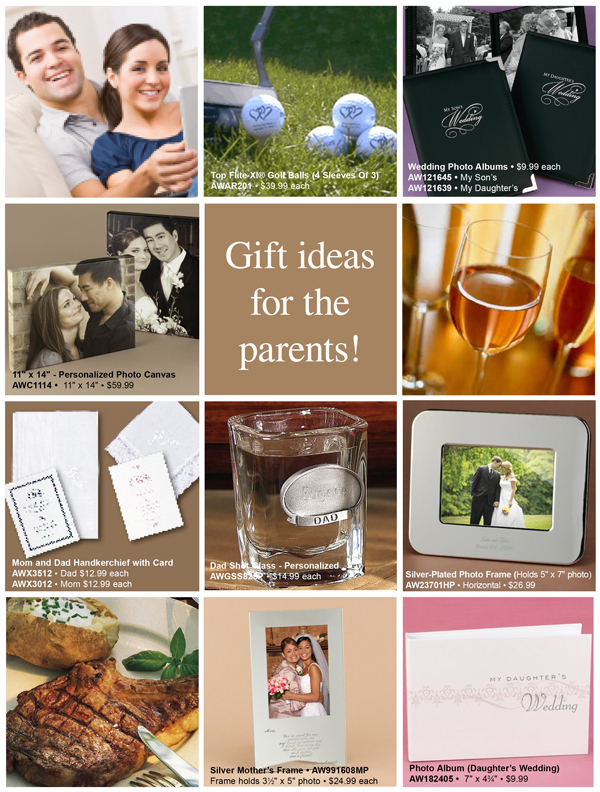 The Classics
• Cuff links for Dad
• Jewelry for Mom
• Embroidered handkerchiefs
• Photo frames
• Photo albums
Unique Ideas
• Photo canvas! Increasing in popularity, the photo canvas is a contemporary take on the traditional framed photo.
• Wine or movie basket tailored to fit your parents' tastes.
• An evening out. Give them a gift card to a nice restaurant and a pair of theater or movie tickets.
• A keepsake box with a collection of mementos from your wedding: photos, the invitation, the wedding program, a piece of décor from the reception, flower petals, etc.
• A photo book is another modern take on a traditional gift. Check out a few different sites to price check their offers.  Snapfish.com and Vistaprint.com are a couple options that produce quality photo books parents will really enjoy.
Gifts are typically given at the rehearsal dinner or bachelor / bachelorette party. There is no right or wrong gift and there is no set budget. You need to choose the item and price based on thoughtful, heartfelt consideration. With that in mind, you can't go wrong!
Pin It