In our experience, we've noticed a few important wedding items that are consistently forgotten. Make sure you have these wedding must-haves, and don't worry if your wedding is fast approaching. These items are easy to order and will arrive quickly.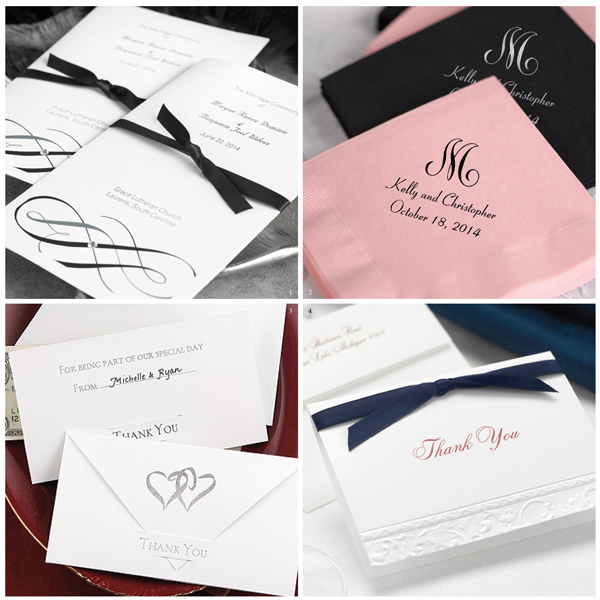 1. Wedding Programs
Somehow in the shuffle of wedding planning, wedding programs are often overlooked. Brides tend to think that because they've forgotten about them, they'll have to settle for something simple and plain. Not true. Usually there's enough time to order stylish, affordable wedding programs that are professionally printed. (See our shipping details below for timeframes.)
2. Wedding Napkins
Brides will often decide to purchase wedding napkins as a last-minute way to boost the color and décor at their wedding reception. Wedding napkins are vibrant, personalized and easy to add to any venue. You'll be amazed at the impact they have on the overall look!
3. Gratuity Envelopes
Gratuity is a must, and although couples may remember to include it in the wedding budget, they often forget about how they will present it to the officiant, musicians, etc. Gratuity envelopes are an attractive, tasteful way to do so.
4. Thank You Cards
Although couples don't usually forget to order thank you cards, they will often forget to order enough or to reorder in time. Thank you cards should go out as you receive gifts before the wedding and you might choose to use them for vendors and service providers on your wedding day. By the time you end up writing thank yous for gifts received at the wedding, you may be running low. Keep an eye on your thank yous and if in doubt, order extras. Depending on the design, you'll be able to use them long after the wedding.
A note on shipping: most orders are ready to ship within 3-5 business days of ordering. Ground shipping can take up to 5 business days, but we also offer next-day, second-day and third-day shipping for an additional cost. See our shipping information for more details.