Wedding Planning Checklist: Section 6: Part 5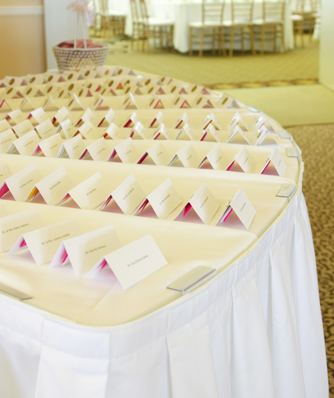 As you finalize your wedding guest list, start thinking about whether you want to create a seating plan for your reception. You might decide to have a seating plan for the entire reception, or you might keep it simple and arrange just a few important tables.
Follow these 10 steps to get started.
1. Get a copy of the reception room floor plan.
2. Think through the flow of the room — where the head table will be, the cake table, buffet tables, the dance floor, etc.
3. Decide what shape and size of tables will fit best with the room and desired flow.
4. Now begin a seating chart. You can begin arranging tables right away. Start assigning seats as soon as you start receiving RSVPs. Check out WeddingWire's seating chart tool for an easy way to arrange your reception.
5. Place the head table front and center, preferably on a raised surface for best visibility. Decide who will be at the head table, the most popular choice being the bride, groom and wedding party.
6. Seat the ring bearer or flower girl with their family for best behavior. All children should be seated with their families even if you have a kids' activities table. Children can wander to the activities area when needed or you can provide activities packs at their tables.
7. Work your way out. Immediate family should be placed closest to the head table. You can place parents and grandparents together or divide them by family. If parents are divorced, feel free to place them at separate tables with other family.
8. Begin to fill in with extended family and friends. Mix people by interest and relationships to promote a more enjoyable time. We do not recommend an entire table dedicated to "leftover" people. Find a spot for each person at tables that are very social or easy going in an effort to make them most comfortable.
9. Unsure of how things are laid out? Consult your mom or your groom's mother. They may have some good ideas and will be happy to help in the wedding planning.
10. See below for ways to direct guests to their proper seating!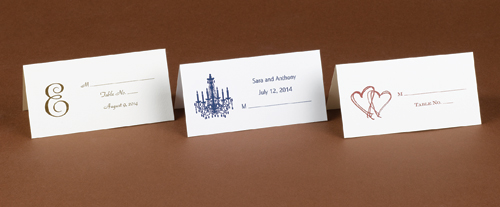 5 Ways to Direct Your Guests
1. Create a sign that explains seating is open and to grab a chair next to anyone. Place that sign at the reception entrance.
2. Provide escort cards at the reception entrance to direct guests to the proper tables, but leave the actual table seating open for guests to choose.
3. Provide escort cards to direct guests to the proper tables and place cards at each place setting to direct guests to their exact seat.
4. Create a posted seating chart for guests to reference as they enter the reception instead of using escort cards. Still provide table numbers at each table, but place cards are optional.
5. TIP: Do something fun with the table number cards and/or place cards! Use themes instead of numbers to name each table. Ideas include sports teams, gemstones, TV shows, Disney characters, hobbies, "I love you" in different languages, etc. Use the back of your place cards for table topics or for something a little more practical like listing your newly married address for guests to keep.
Check back Thursday for creative DIY place card ideas and more!