Vintage weddings are a blast because you can repurpose so many things to create your look. Flea markets, yard sales, attics and thrift stores are great places to find these treasures.
Some of my favorite vintage decorations include antique bottles, mason jars, lanterns, old books, keys, lace ribbons and lace curtains, mix-and-match dishes, cake stands, crates, old suitcases and birdcages.
In the arrangements below, we've added some white mums, hydrangeas and baby's breath to give our wedding reception centerpieces that lacey-vintage feel.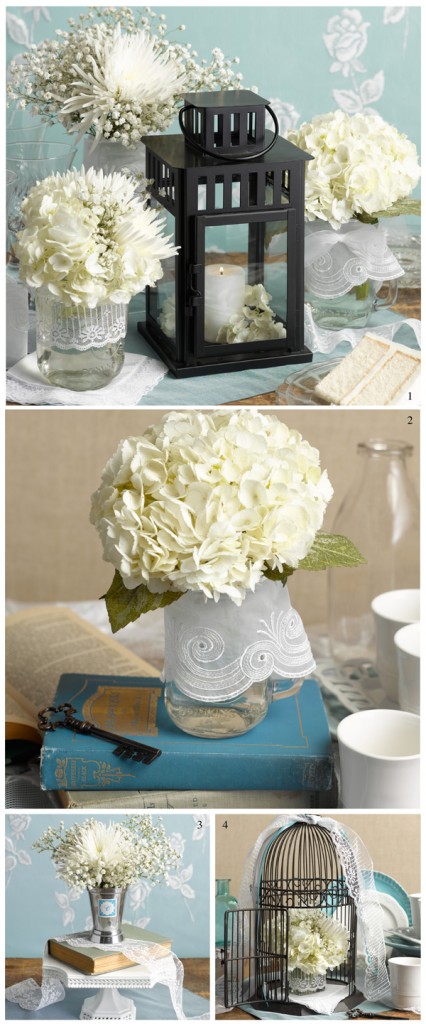 Option 1.
A simple lantern with candle inside surrounded by mason jars filled with flowers. Wrap the bottles or jars with lace ribbons and add a stick-on chiffon bow. The lace will hide the stem of the flowers and soften the look. 
Option 2.
Simple yet beautiful. Fill mason jar glasses with water and hydrangea blooms. Wrap lace around the glass to cover the stems and set on a few old books (have fun with the titles of the books). Then add a few antique-style keys for an enchanting finish. 
Option 3.
Fill silver mint julep containers with one large mum and sprays of baby's breath. Add a Delicate Border Seal and rest on top of a white cake stand, old book and lace.
Option 4.
 A beautiful arrangement for a guest book table or gift table, this birdcage is accented with satin and lace ribbons tied to the handle. Insert a small arrangement of hydrangea and baby's breath or a small candle. Vintage hankies, keys, colored bottles and old photos are beautiful finishing details.
Hope you have found some wonderful inspiration this week with our vintage wedding theme! For more inspiration, we recommend another fabulous blog called http://www.weddingchicks.com/.