Congratulation to our winners, Bekah, Tiffany and Amanda!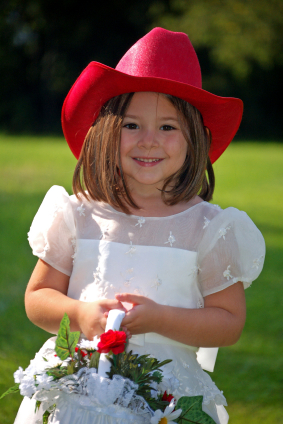 We asked brides to tell us about their flower girl and the role she'll play in the wedding to be entered for a chance to win a $50, 1-800-FLOWERS gift card. Thank you for commenting! We got some really great feedback from all of you.
Here's what our winner, Bekah, said:
"My flower girl is a girl that I babysit and go to church with. She is 3 1/2. She has light brown hair with natural curls and highlights. She will be wearing a white tu-tu dress with a black bow in her hair. She will carry a basket made by a lady at our church. Instead of flowers she will be throwing out pretty sparkling butterflies. She is excited. She will be beautiful."
Here's what our winner, Tiffany, said:
"We are having three of our beautiful neices as our flower girls. Two 4 year old twins and 1 five year old to rein them in and get them to listen. We are hoping that between the three of them we get a few petals on the ground and atleast one of them makes it all the way down.
They are wearing light lilac dresses that sparkle so pretty in the light (JCP on sale $20 a peice) and we bought metal "Easter" baskets from Micheals. They are so simple with small flower detail and a perfect garden feel to go along with our wedding. They will also be barefoot with a nice pedicure and purple toe nails painted. They are so excited to go sit in the big chairs at the salon!!
For gifts we purchased tiaras for them, because every girl needs to feel like a princess, as well as monogrammed locket-necklaces. Something they can wear for a few years on special occassions and remember the day. We were going to get them personalized teddy bears but they have so many that we wanted them to have something extra special.
With a little over a month till the wedding, our Michigan weather finally starting to cooperate we are all very excited to have them start practicing the walk. (We bought seperate baskets so they don't break the real ones!)"
Here's what our winner, Amanda, said:
"I will have 2 flowers girls. My daughter who will be 13 months at the wedding will sit in a wagon with petals in it. My 5 year old cousin will be the second flower girl, she will pull my daughter in the wagon. I am hoping that my daughter will play with the petals and throw some of them out of the wagon. My colors are purple so I want a purple wagon. I am so excited to see how cute she looks in the little wagon!"
Thank you to all who entered!
We also wanted to share some of the creative ideas our brides posted. Nice work, ladies! There were so many great ideas. We decided to highlight just a few, but be sure to read through all of the comments for wonderful inspiration!
• The girls will carry wands instead of the typical basket.
• She will have a wooden hand painted sign that says, "Here Comes The Bride!"
• Our wedding theme is peacocks and she will be throwing out a mixture of flower petals and peacock feathers.
• She will carry a drawstring flower bag that is black with spider web material that will contain black and burgundy rose petals.
• Each Flower Girl will be holding a rustic, brown flower girl basket that has their name and wedding date painted on to a chalkboard heart.
• I am having a roaring 20′s inspired wedding so she will be wearing a little flapper dress and she will be escorted by her brother Adrain who will be wearing a little gangster/mobster suit.
• We have so many adorable kids in our families, so choosing was so impossible. Instead, our dogs are our flower girls. We got them matching harnesses and leashes that go with our circle theme!
• They will both carry ivory flower girl baskets & have butterflies & hearts that are stamped out in navy paper, yellow paper & sheets of music.
• She will carry a crepe paper flower pomander.
• I wanted the flower girl to have a flower ball hanging from a ribbon, but I didn't want to pay $40 for a real one that could get damaged – I managed to find one at a craft store for $5.00! I'll put one brooch on her flower ball to match the brooches in my bouquet.