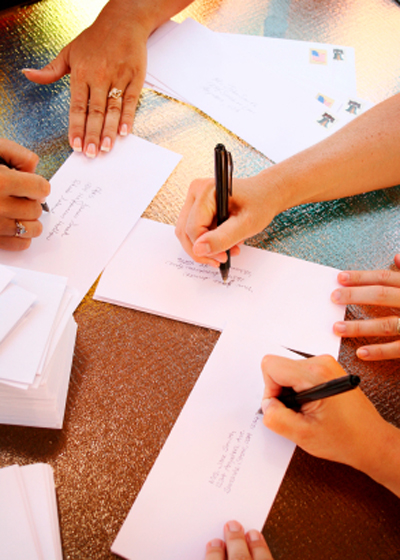 Question: What are the inner and outer envelopes for? Do I address both envelopes?
Answer: The majority of Ann's invitations come with outer envelopes only, but we do offer invitations with inner envelopes as well. The inner envelope is still a common part of today's wedding invitation ensemble, but has become a more traditional/formal element. Our Wedding Planning Guide article, Helpful tips for assembling/addressing your invitations, has a thorough explanation of the inner and outer envelopes. Check it out! 
Question: I like the separate and send wedding invitations, but how do you address them? Is it the same as a regular invitation?
Answer: Yes. Sep and send invitations are addressed the same as traditional invitations. The only difference is that this value set comes with the invitation, reception card and respond card all on one sheet, which you separate before assembling. You still receive an outer envelope and an envelope for the respond card, both of which you'll need to address.
Question: Are seal and send invitations truly just "seal and send," or do I address it like any other invitation?
Answer: Seal and send invitations do not come with outer envelopes, but there is a place for you to write the recipient's address on the front of the folded seal and send. Unlike traditional invitations, the price of a seal and send includes printing your return address on the outside and on the respond card.  To learn more about seal and send invitations, read "What's the deal on Seal and Sends?". 
Question: Do I have to handwrite guests' addresses on the wedding invitations? Can I use address labels?
Answer: Wedding invitations should be hand addressed, but it is acceptable to have envelopes nicely printed with guests' addresses. (Consider Ann's addressing service to save yourself some time and effort.) According to etiquette, address labels are not acceptable for guests' addresses. However, they are acceptable for the return address on the outer envelopes and the respond card envelopes, especially if they coordinate nicely with the invite's design (like our Flowers and Flourishes Wedding Invitation and address label).
Before you start addressing, see the "Top 10 Things to Remember When Addressing Your Wedding Invitation Envelopes."