The Backyard
You don't have to get a fancy venue for the rehearsal dinner. Something intimate and comfortable is best for this fun, pre-wedding party with your closest friends and family. Which set of parents has the nicest backyard or patio? Does your church have an outdoor area for a celebration? Maybe you and your fiancé live together and would like to host the rehearsal dinner at your home. Anything goes, but this is a cheap and convenient option!
Public Parks
Public parks often have picnic tables and gazebos that are free to use for small events. Gazebos lend a beautiful setting for rehearsal dinners. Below you'll see a venue decorated with white Christmas lights and paper lanterns. An enchanting look that's easy and affordable! The downside to parks is that a kitchen is not usually available, although some do have them so check a few places out. Otherwise, who doesn't love a grill-out? 
The Beach
Whether you're near the ocean or a lakeside park, the beach is a very romantic wedding rehearsal dinner location. You may have to rent tables and chairs, but be sure to check with the park or location you want to use. They may have equipment for you or be able to recommend places to rent from. Again, kitchens aren't readily available but grilling is usually an option.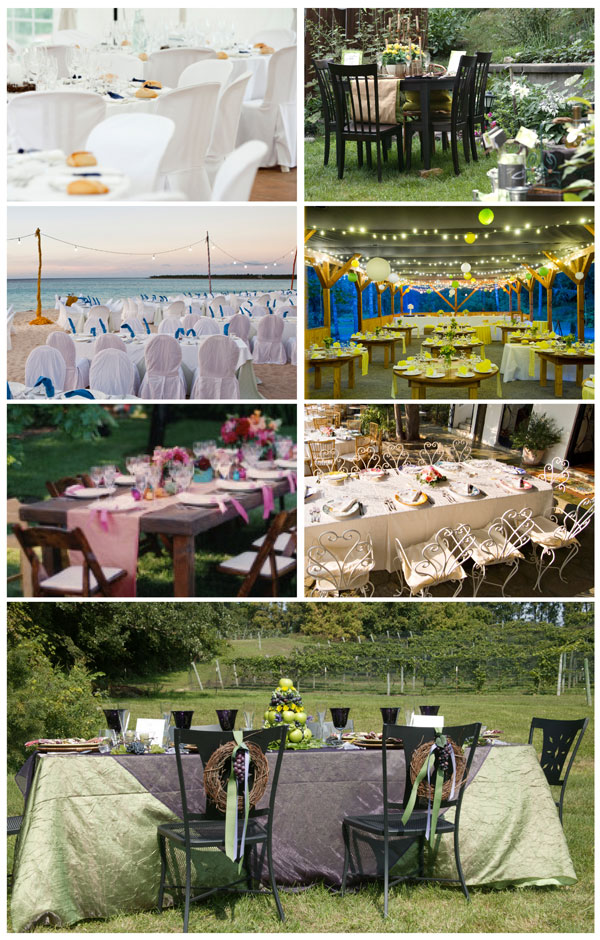 Community Rooms
Check with your church, local banks and community recreation facilities. These venues are often free if you're a member or available at minimal cost. They may even have tables, chairs, tablecloths and other resources to offer you for the rehearsal dinner.
Wondering what a wedding rehearsal dinner is and what it entails? Read this blog post from our wedding planning guide, "Planning the Wedding Rehearsal Dinner."