Wedding Planning Checklist: Section 6: Part 7
Wondering when to send rehearsal dinner invitations?
Rehearsal dinner invitations should be sent about four weeks in advance, unless you're inviting any out-of-town guests. Then the invitations should be sent 2-3 months in advance to give guests ample time for including the rehearsal dinner in their travel plans.
These days, rehearsal dinners can be intimate affairs with just the bridal party and immediate family, or they can include all out of town guests. You can make it as large or as small as you would like. We recommend small for budget purposes.
For destination weddings, all guests are usually invited to the rehearsal dinner. In this case, it is recommended to include the rehearsal dinner information on the save the dates and include a rehearsal dinner card with the invitations.
Still need to choose your rehearsal dinner invitations?
Shop our many discount wedding invitations and pick your favorite. Personalize it with wedding rehearsal dinner wording and you're set! Check out www.verseit.com for wording ideas.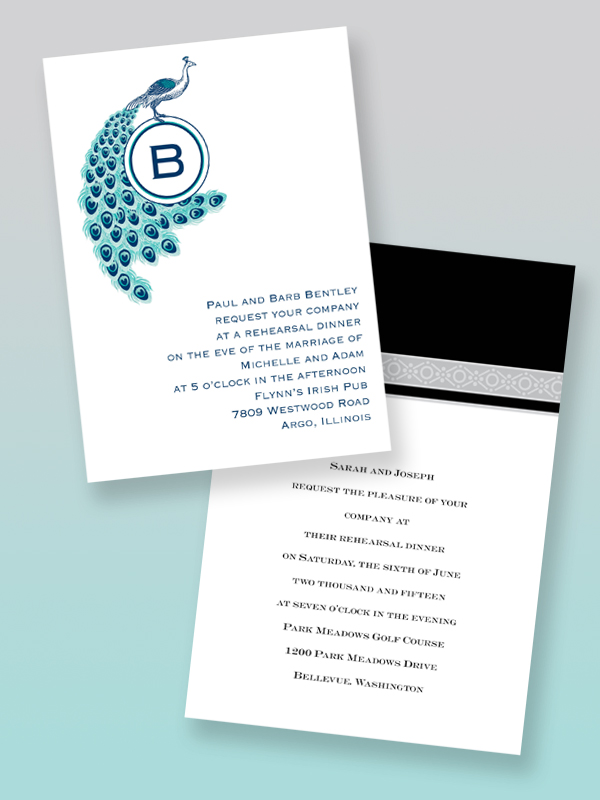 Looking for ways to break the ice at the rehearsal dinner?
– Provide nametags with the guest's relationship to the bride or groom.
(e.g. Tom Dallas – Groom's Uncle)
– Nametags could also note favorite hobbies, books, movies, etc. These are all great conversation starters.
– Play yard games, hand out a quiz about the couple, play wedding-themed charades with each table as a team.
– Set up a table of photos near the bar area to promote mingling.
If you're in need of rehearsal dinner location ideas, check out our recent post, "Best Wedding Rehearsal Dinner Locations to Fit Your Budget."