We've got some excellent wedding decoration ideas that are perfect for making your walk down the aisle even prettier. Spending a little extra time and effort making the aisle extra beautiful will help set the look for your ceremony venue. Here are some great décor bargains you can use to make your aisle absolutely lovely.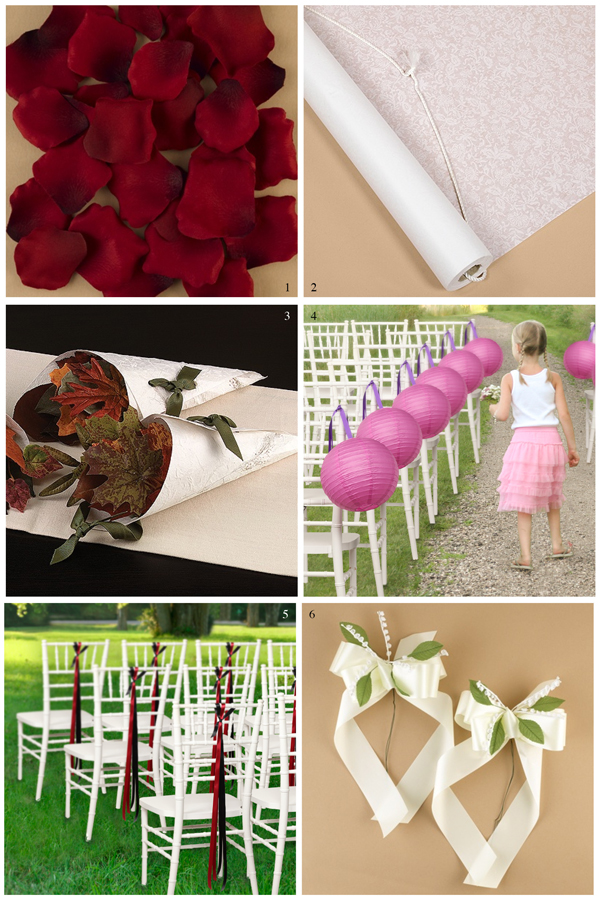 1. Silk Rose Petals. These rose petals are not the real thing, but if you can't tell your guests can't either. Silk flower petals are super affordable, they're beautiful and they're an easy way to add a splash of color.
2. Lace Aisle Runner. Lace is a hot trend right now, given its vintage feel and delicate beauty. Line your aisle with a white, lacy aisle runner, and you'll feel simply divine walking along the lacy path rolled out just for you. 
3. Pew Cones. Pew cones work great as cheap wedding decorations because they look elegant while being simple and affordable. Choose ours made from botanical, handmade paper or make your own out of scrapbook paper. Fill with flowers and use colorful ribbon to hang them from each pew or chair along the aisle. 
4. Paper Lanterns. You love these colorful, modern party decorations and so do we! So we've added paper lanterns to Ann's in a variety of colors, all at affordable prices. Cheap wedding decorations have never been cuter! 
5. Ribbon Chair Sashes. All you need are spools of colorful ribbon and a scissors. We guarantee you'll come up with something beautiful for your ceremony pews or chairs. The ribbon sashes shown below are very easy to make — just cut, thread and tie.
6. Pew Bows. These shimmering, silk bows feature leaf and faux pearl accents. Pew bows are easy, inexpensive and classic wedding decorations for your aisle. 
Check out Ann's Top 5 Cheap Wedding Reception Decorations, too.