I love party themes, so when I was asked to put together a red, white and blue party look for a wedding rehearsal dinner, I was more than happy to do so.
I took lots of shots of the favors, accents and decorations, plus I've explained a few of the key elements below, so you can create a truly coordinated look for your own wedding celebration.
Remember that red, white and blue is just an example. You can use these ideas for any theme or color combo.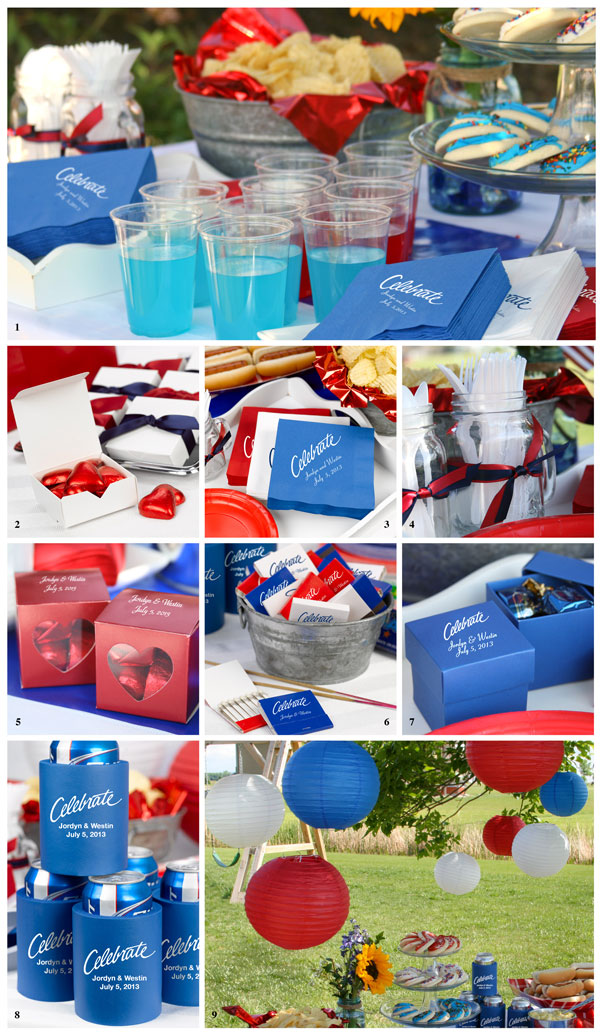 The Food (1,3,9)
All food containers had a splash of color. I like to get creative with how I serve things, for example you can see I lined a tin pail with red metallic paper and filled it with potato chips — simple, but eye-catching. The cookies were decorated to fit the theme and placed on layered cake stands. The colored beverages added nicely to the overall look, too.
The Favors (2,5,6,7,8)
Guests had a range of favors to choose from here, but you could pick just one or two things for your party. White favor boxes are filled with red chocolate hearts and tied with coordinating ribbon. Red favor boxes with clear heart windows show the treats inside, which fit well with the décor. The blue, two-piece favor boxes are also filled with chocolates. Another fun favor idea is giving out personalized matches or notepads in a mix of colors, shown here in a small tin pail. And, of course, every summer celebration needs beverage koozies!
The Decorations (3,4,9)
Our number one goal here was to incorporate red, white and blue into the party decorations, but we also wanted to create a custom look. So we chose a design from Ann's, which we added to napkins, favors and koozies. This added a wonderful element of personalization that really made an impact.
Personalized napkins are an affordable way to not only add a party essential, but also add color and a personal touch to the overall décor. You'll also notice how we used ribbon to add colorful accents to otherwise plain items, like the canning jar filled with plasticware. And to top it off, literally, we hung cute paper lanterns from the overhanging tree branches. 
Learn more about creating your very own party look! Get a Coordinated Wedding Look for a Price You Never Thought Possible