Dressing up your aisle can be easy and you can make it as simple or elaborate as your budget allows. Here are a few photos to inspire some wedding decoration ideas for your aisle.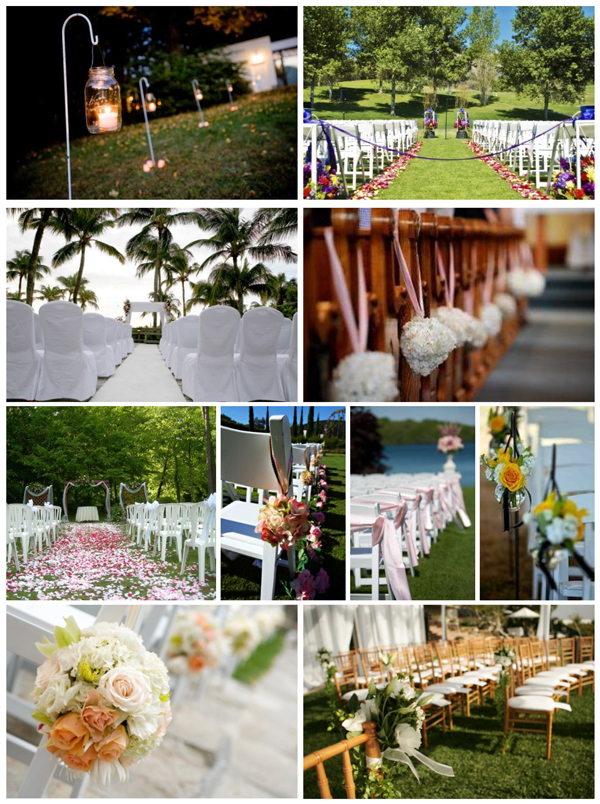 Light the way with mason jars wrapped with wire and hung from a metal hook. You can use Christmas light hooks or garden hooks.
Petals are a great way to dress up your aisle. Generously sprinkle petals along the path or create a row of petals on each side. You could use real petals if the ceremony is outside and silk petals if the ceremony is inside.
Clean and elegant, aisle runners are like rolling out the red carpet for your wedding party! Choose something trendy like the simple, lacy design of our Lacy Patterned Aisle Runner or go for something sleek and sophisticated with the Monogram Aisle Runner from our favorite partner site, Invitations by Dawn.
Hang pomanders (round flower arrangements) on pews or chairs. Hang them every two rows to save money. You can reuse these adorable floral arrangements at the reception, too.
Ribbon adds beautiful color to chairs. Use ribbon as "rope" to create a beautiful swag look along each side of the aisle. Create chair sashes — not just an indoor decoration! Use them outside to decorate the aisle chairs and add color to the overall scene.
Quick Tip: Check with the ceremony site to see if there are any restrictions on decorating.
TALK TO US: Let us know how you're decorating your aisle, or ideas you'd like to bounce off of us. We'd love to hear about your wedding decoration ideas.