Wedding Planning Checklist: Section 6: Part 8
Toasts from close family and friends are acceptable at pretty much any wedding-related celebration. Today's etiquette behind toasting revolves more around what you say than who says it and when, but there are a few celebrations where couples choose to keep tradition alive.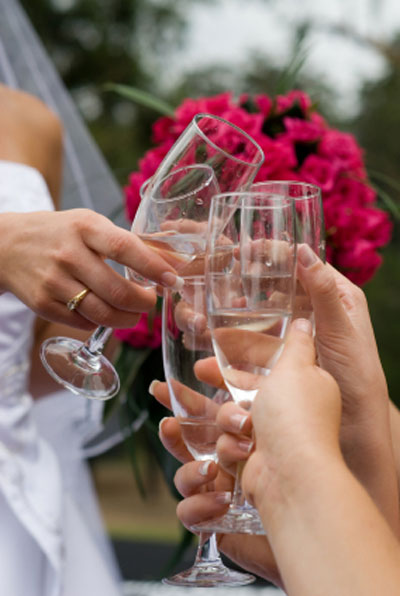 Engagement Party
The father of the bride begins with a toast. The mother of the bride may also toast, followed by the father and/or mother of the groom. The parents will toast the couple and welcome the other family into their own. A grandparent or close friend may also propose a toast.
Rehearsal Dinner
The host of the rehearsal dinner, which is often the groom's parents, will begin with a toast. Then the couple thanks those who have helped with planning, guests who have traveled far, both sets of parents and each other. The bride's parents, grandparents and members of the bridal party may also propose a toast.
Wedding Reception
Whoever is hosting the wedding gives the first toast. The hosts are traditionally the bride's parents. Then the parents of the groom would speak followed by the best man and maid/matron of honor. Other close family and friends may also toast the couple. Finally, the couple will toast all of their guests and various people for the help they have given along the way. This usually occurs after the cake cutting ceremony.
Questions to consider when writing a toast.
1. How did you meet the person you're toasting?
2. How did your friendship grow over the years?
3. What does this person mean to you?
4. What are some favorite memories?
5. What was your first impression of the person's now bride/groom?
6. Did you suspect it was love, why?
7. Why are they perfect for each other?
8. What better qualities does this relationship bring out in your friend?
9. How does their relationship inspire you?
10. What wishes do you have for them?
Writing your own wedding vows.
It's a beautifully touching way to express your love for each other at the ceremony. Saying traditional vows may also be very meaningful to the couple. Choose what's best for the two of you.
Questions to consider when writing your own vows.
1. What did you think of each other when you first met?
2. When/how did you know you were in love?
3. When did you know you'd marry this person?
4. When and where did you first say "I love you."?
5. What do you love and admire most in the other person?
6. How have you changed for the better through this relationship?
7. What challenges have you overcome as a couple?
8. What does his/her family mean to you?
9. What lessons about love/commitment have you learned from each other and each other's families?
10. How do you see yourselves working through challenges ahead?
P.S. Toasts and vows should be anywhere from 30 seconds to three minutes. You can go over, but definitely no more than five minutes. A good speech is heartfelt and concise.