Country weddings at a family member's home are beautiful, intimate and affordable. Use the natural surroundings as your backdrop, then mix and match items such as tables and chairs to create a relaxed country feel. Offer apple cider for your guests, a fire they can cozy up to and s'more fixings to really bring back memories!
For your centerpieces, create arrangements of wild flowers in containers of wood or tin. For decorations, use accessories found around the farm to add your names or initials to chairs, rustic windowpanes or old suitcases. Top the look off with the Southern tradition of a groom's cake, featuring his favorite sports team, hobby, drink, or whatever else you think will get a laugh!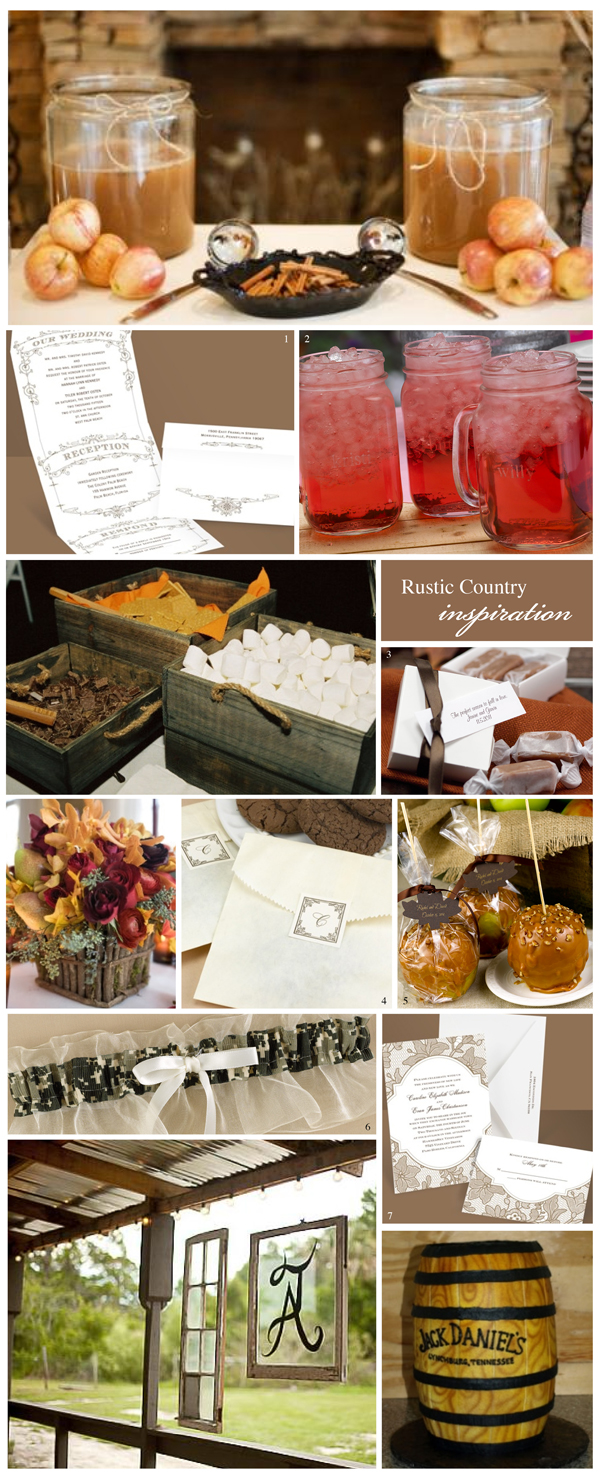 1. Wedding Playbill – Latte – Seal and Send Invitation
Rustic charm with a touch of antique glamour, this invitation will set the mood for your unique wedding celebration.
Easy favors! Set a mason jar at each place setting, tie a tag on it and provide pens for guests to write his/her name. Set up a beverage stand for guests to fill their canning jars.
3. White Favor Boxes with Brown Satin Ribbon
Fill with homemade caramels, lemon drop candies or a mixture of nuts. Add a favor tag and let guests grab their favor box as they walk in, or place them at each table setting.
4. Delicate Border Seals – Ecru
The perfect finishing touch for your rustic wedding favors, add these seals to favor bags, boxes, envelopes and more.
5. Maple Leaf Favor Tags – Mocha
Cute and affordable, maple leaf favor tags are a clever addition to your favors, decorations and floral arrangements.
If you enjoy hunting, add a special camo touch with a camo garter, camo socks for the guys or camo-patterned ribbon tied around the bouquets.
7. Vintage Lace – Latte – Invitation
An old country, lacy feel is such a beautiful element of design you can easily incorporate into a romantic rustic wedding or simple country affair.
Here are a few other fun ideas!
Enjoy fishing? Tie a bobber or lure with ribbon and add a tag with a special message for your favors. If your reception is by a lake or river, set out a few poles for guests to try their luck at fishing (ask a friend to assist guests and children). A minnow bucket would make a cute card box!
If you like ATVs, decorate yours with a "wedding" sign and place at the venue's entrance surrounded by some blooming plants.
If you're a truck enthusiast, make sure your just married sign is hanging on the tailgate as you drive off from the reception.
Your personal touches will make it a memorable event for you and your guests!