Congratulations, Trena! You've won the $250 shopping spree at Ann's Bridal Bargains.
Our winners, Trena and Jeremy, met their sophomore year of college and were engaged right before their third anniversary. They are having a romantic wedding in a beautiful, historic location in Oregon — a Masonic Lodge turned hotel. The wedding is set for July of 2013 and will have a garden party theme with a beach-inspired color scheme of sea greens and blues.
Sounds like a gorgeous wedding, Trena! Thank you for your Budget Talk contribution. We hope you find lots of great things at Ann's for your special day.
And a HUGE thank you to everyone who shared excellent budget advice. We loved hearing about how all of you are saving money on your wedding, and we guarantee your advice will help many other couples planning a wedding on a budget.
Here's the order in which we'll be revealing the Budget Talk Pins:
Today, August 23 – Ways to Save on Décor
Saturday, August 25 – Ways to Save on Food
Tuesday, August 28 – Ways to Save on Services
Saturday, September 1 – Ways to Save on Other Necessities
 Let's face it, we all want our wedding to be beautiful.  Here's what brides had to say about saving money on wedding decor.  Enjoy!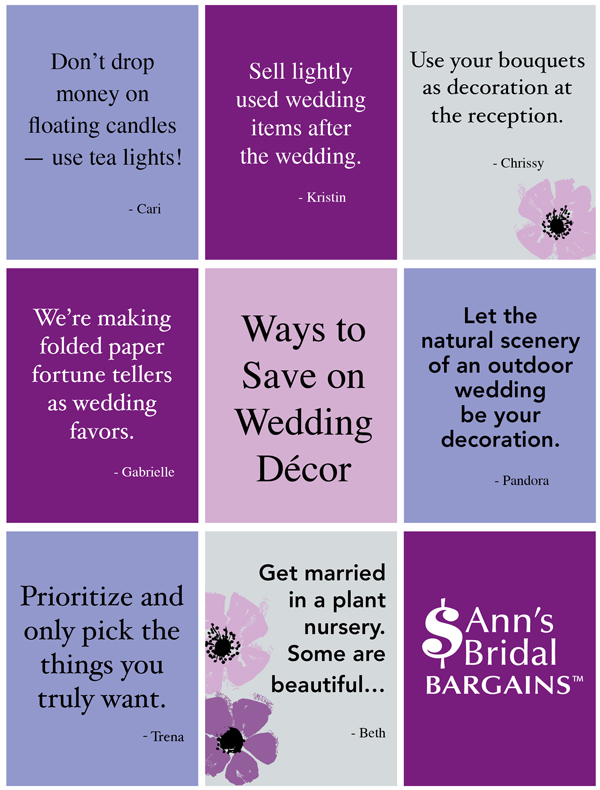 To see all the budget advice given and each tip in its entirety, visit the blog's comments page.