Did you know minimalist style started making its way back into fashion when the recession began in 2007-2008? The state of our economy actually plays a significant role in fashion, hence minimalism resurging in popularity. Beautiful in its simplicity, minimalist style has become an enduring theme in today's weddings especially with the rising popularity of eco-friendly choices telling us less is more.
The Petite Wedding Invitation Collection by Ann's is one of many ways to keep your wedding simple and beautiful. The smaller size is both delicate and economical, leaving you with a price point of $59.99 per 100 invitations — that's pretty amazing! Even with a reception, respond card and the necessary envelopes, petite invitations can still be mailed for a standard first class postage stamp. You can even add a cute pop of color with lined outer envelopes (not available with all invitations).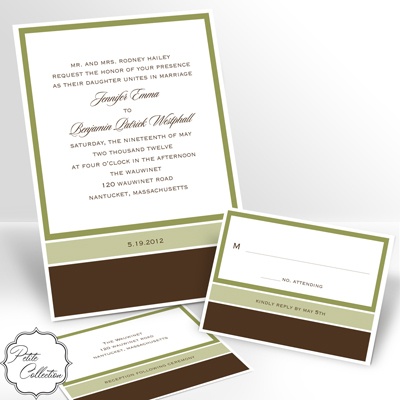 Today's weddings are all about being unique. No fashion trend is going to dictate how you pull that off, but we suggest ordering a sample of your favorite petite wedding invitation. Put simply, we think you'll like it.
Quick Tip: When mailing, always assemble a complete ensemble and have it weighed at the post office before purchasing postage to verify how much you need.