Brides are continuously asking for peacock wedding ideas. The sassy look of peacock feathers and the stunning color palette they inspire are fabulous for creating a unique look guests will never forget. Need another reason to love the look? The peacock symbolizes immortality, renewal and beauty. The "eye" on the feather means "all seeing."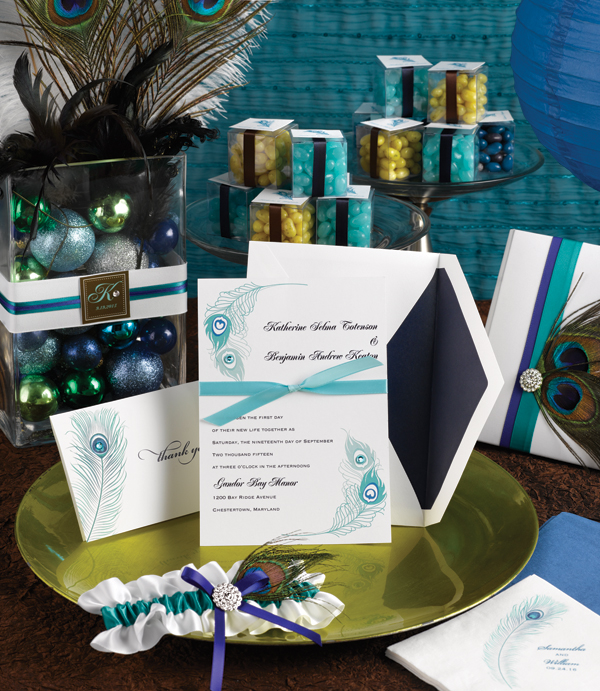 We've put together this "eye-catching" peacock look we think you'll like using discount stationery and accessories from Ann's Bridal Bargains. Here's what we featured:
Feather Fancy – Invitation with Free Respond Card
We love this invitation, but remember that peacock wedding invitations don't have to include feathers. Invitations that focus on the peacock color palette are just as stunning.
Accent anything and everything from the invitations to favor labels. A little bling is so perfect for enhancing a peacock wedding theme. 
100-Yard, 3/8″ Colored Satin Ribbon Rolls – Aqua Ribbon
Ribbon is a beautiful and inexpensive way to add your peacock wedding colors to the ceremony details and wedding reception decorations.
A pretty little something to add to your wedding ensemble as an extra special accessory.
Beautiful Peacock Guest Book and Pen Set
Guests will be amazed that you found this perfectly coordinated set for your peacock wedding, and you'll be amazed at the very reasonable price.
Add color and style to your peacock wedding reception without spending a lot of cash with personalized napkins. The ooh la color™ napkins add a stylish touch while the cheaper, solid-colored napkins in green or blue add quantity and color.
For favors get creative with coordinating colors of candies, ribbon and custom seal accents. Ann's Bridal Bargains has three feather/peacock designs you can add to personalized napkins, favor boxes, custom seals, matchbooks and more for an entirely coordinated look!
Have fun with texture and centerpieces at your tables. Use feathers to accent décor, bouquets and even boutonnieres. Search online for the best wholesale price on peacock feathers before you purchase from a craft store.
Get ready to strut your style — this wedding theme gets noticed!