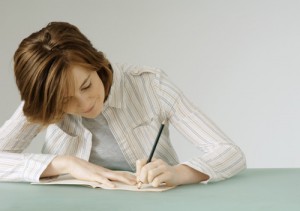 Tradition says that most brides take their spouse's name, and for a majority of today's brides this will be true. If you choose to take your groom's name, here are a few things to consider when changing your name.
Start by getting two or three certified copies of your marriage license (a photocopy won't work). These will come from the agency where you filed your completed marriage license. You may need to submit a certified copy when working with an agency on your name change and you most likely will not get it back.
Your first step will be changing your driver's license or state ID. Go to your local DMV website and download the forms to save time when you are there. Be sure to have your certified marriage license copy with you as proof of your new name and your existing driver's license or state ID. You might also be able to update your voter registration, vehicle registration and title. Be sure to update your address information if you and your spouse are moving to a new location.
Next step, change your social security card. You'll need your certified marriage certificate and identification.  Here's a link to the documents required for changing your name at the Social Security office: http://www.ssa.gov/pubs/10513.html.  Not all Social Security offices process cards — make sure you go to a card-processing center. Here is a link to find your local social security office: https://secure.ssa.gov/apps6z/FOLO/fo001.jsp.  Make sure you give yourself ample time for changing your social security card.  Some offices are extremely busy and can take hours for your turn to come.
Having your new driver's license and Social Security card will be the key to making additional updates and changes with other agencies and businesses. It can take 2 to 3 weeks to receive your new cards. Once you have them you'll be able to update your passport and make changes at your bank, place of employment, doctor's offices, post office, and on investment accounts, utilities, credit cards, insurance and wills.
Some companies will allow you to change your name over the phone, without having to fax or mail proof.  These companies can include utilities, credit cards, cell phone provider, gym membership and many others.
If your honeymoon immediately follows your wedding, do NOT make travel reservations in your married name. It's easier to travel with your current documents in your maiden name.
In most cases there is no fee for changing your name. Some government agencies may charge a fee to issue new documents with your name change. As a precaution, always shred or destroy old documents containing your former name to avoid identity theft.