Here are some cool wedding favors for your beautiful winter wedding. Remember to play with different combinations of boxes, ribbon and accents to fit your wedding look perfectly.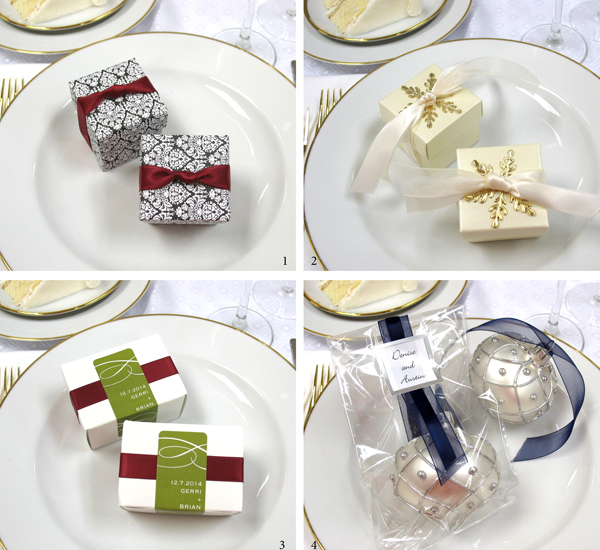 1. Black and white with a touch of color is a popular wedding theme anytime of year. Deep scarlet roses will look amazing as a centerpiece next to these Damask Favor Boxes (2-Piece) wrapped and knotted with Scarlet 100-yard 5/8″ Satin Ribbon Roll. Top the lid with a sprig of evergreen (fake greens work great, no sticky sap or mess, just cut small sprigs from a large branch). 
2. Want a high-end look without a high price? Tie Ecru Shimmer Favor Boxes (2-Piece) with Ecru 100-yard 5/8″ Satin Ribbon Roll and Ecru Chiffon Ribbon. For a touch of sparkle, add golden snowflakes found at any craft store. Guests will enjoy the treat inside and the snowflake keepsake. 
3. Take advantage of your reception hall and church decorated in traditional colors of the season… greens and reds. Fill Small White Treat Boxes with truffles or peppermints and seal with Flourish – Kiwi – Favor Labels and Scarlet 100-yard 5/8″ Satin Ribbon Roll.   
4. For a truly festive favor, give your guests ornaments presented in Clear Favor Bags – (Medium) embellished with with Navy 100-yard 5/8″ Satin Ribbon Roll and Navy Chiffon Ribbon. Finish with a Square Silver Border Seal. Stock up on ornaments after the holidays when ornaments and decorations are on clearance. 
 Whether you choose a Christmas theme, snowflake theme or simply a holiday colors theme, you can have fun filling favor boxes with your favorite candies or truffles. Fill clear favor bags with fun items like decorated sugar cookies, Chex mix, peppermints or a holiday candle.
Read Tis the season to decorate! Try these easy-to-make holiday centerpieces and Brides wanted more holiday centerpiece ideas! Here they are… for more winter inspiration!