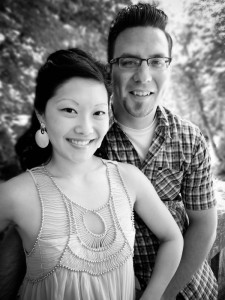 Meet Rachel and Danny, a young couple from south central Minnesota who met in February of 2010 while attending college at Gustavus Adolphus. Rachel was a Management major with a focus in Human Resources and Danny was pursuing a Communications major. They started dating in November of 2010, and one year later on November 18, 2011, Danny proposed to Rachel.
They chose August of 2012 for their wedding date and decided on a Friday evening — a smart budget move as many of you may know. Their colors were champagne, sage and brown. Overall, they wanted a clean, classic look with touches of flair to spice things up.
Since Rachel and Danny were still attending college while planning the wedding, the couple wanted to keep it very low-budget but still elegant and fun. When Rachel and Danny contacted us back in the spring wanting some advice on how to find the right invitation to fit their style and budget, the Ann's team was happy help!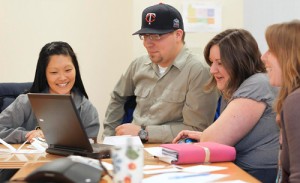 We provided several options for them to consider. The final choice came down to three different invitations…which we will reveal on Wednesday! Check back to see all three invitation options, and be sure to let us know your favorite. On Friday, we'll reveal the invitation they chose along with photographs from their beautiful, budget-savvy wedding.