When Rachel and Danny came to us for advice on budget-friendly invitations, we decided to throw together a few different ideas. After careful consideration of their needs, we narrowed the choices down to three invitations.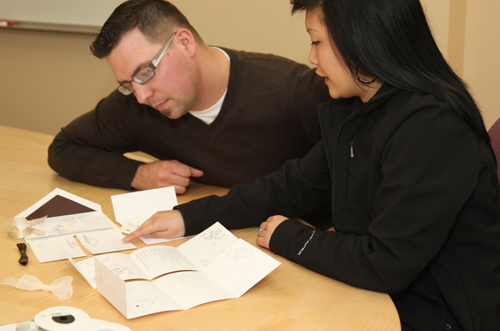 Here are some things we considered when coming up with options:
• Wedding Look – Rachel and Danny's wedding colors were champagne, sage and brown. They wanted a look that was elegant with touches of flair.
• Affordable Accents – We looked at things like ribbon and rhinestones, which could be added to most invitations for a little extra pizzazz without adding cost.
• Guest Count -Rachel and Danny knew a smaller wedding would help them save money, and fewer invitations means less time assembling. This frees up time for fun, DIY accents!
• Money-Saving Details – To keep the cost as low as possible, we looked at easy money-savers like different formatting options, postcard responses and all-in-one invitations.
Option 1: Dreamy – Seal and Send Invitation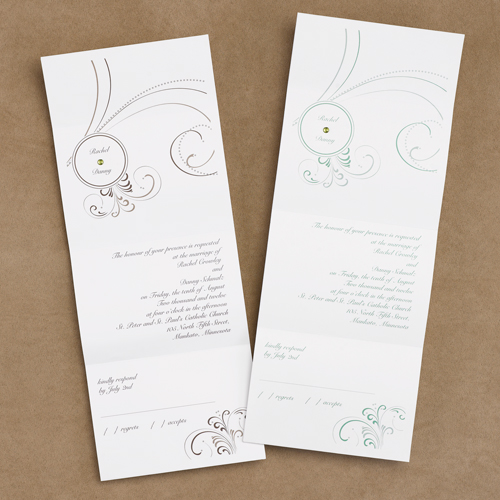 The Invite: Seal and Send invitations feature an all-in-one design, which means the wedding wording and reception wording are printed on the invitation and a detachable response postcard is included at the bottom. Response postcards require less postage. Another nice thing about seal and sends is they are self-mailing. Just fold, seal and send!
The Extras: The swirl design featured on the Dreamy invitation is elegant all on its own, but we added a sparkling rhinestone between the couple's names for an easy touch of glamour.
The Cost: $99.99 per 100. All necessary pieces included! $3.99 per sheet of 25 rhinestones.
Option 2: Forever and Always – Separate and Send Invitation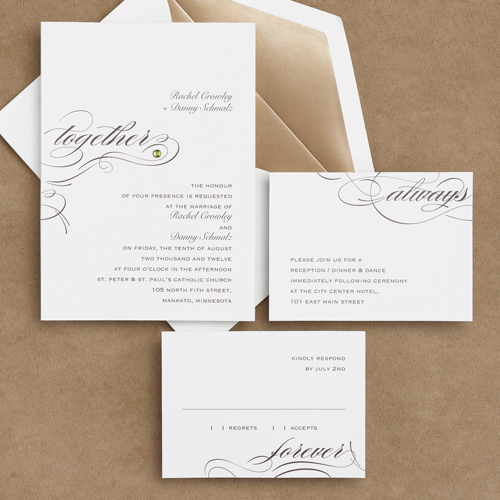 The Invite: Separate and Send invitations come as complete, coordinated stationery sets. Each invitation comes with two enclosure cards (respond card and reception card) on one convenient sheet. The enclosure cards are perforated for easy separation. Invitation envelopes and respond card envelopes are also included.
The Extras: The "forever and always" design creates such a beautiful element on this invitation, we wanted to accent this meaningful phrase with a clear rhinestone. We also chose lined envelopes to coordinate beautifully with the ensemble.
The Cost: $129.99 per 100. All necessary pieces included! $3.99 per sheet of 25 rhinestones. An additional $20 for lined envelopes.
Option 3:  Elegant Filigree – Invitation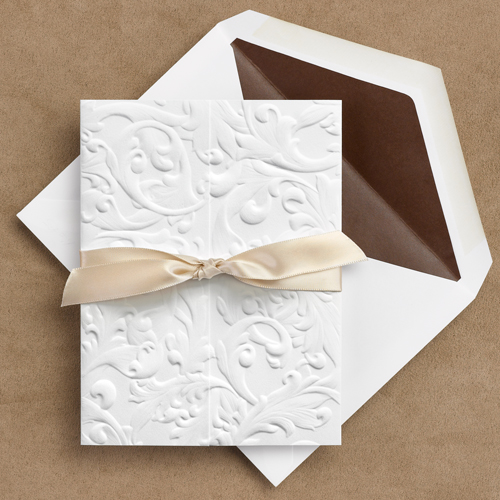 A traditional-style invitation featuring a gate-fold front and luxurious embossing. The cost of this invitation will be higher since enclosures are sold separately. Rachel and Danny would need both the reception and respond cards, but this is still an affordable option especially for a traditional invitation ensemble with rich embossing.
The Extras: The gate-fold closure of this invitation makes it a unique choice. We decided to tie it closed with a shiny satin ribbon. We also added a lined envelope to coordinate.
The Cost: Invitations are $69.99 per 100. Reception cards are $46.99 per 100 and Respond Cards are $51.99 per 100. Satin Ribbon is $28.99 per 100-yard roll, which can also be used on decorations, bouquets and gifts. An additional $20 for lined envelopes.
Let us know which invitation is your favorite and what you like about it. We'll reveal Danny and Rachel's choice on Friday along with some fabulous photos of the big day!