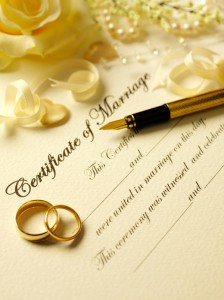 So many couples get caught up in planning the wedding that the legal details will often slip their minds. The marriage license is an important legal detail you don't want to forget. Here are 10 things you should know in preparation for getting yours.
1. A marriage license and a marriage certificate are two different documents. The license says you are legally allowed to get married. The certificate documents that you are married.
2. Start researching your area's marriage license requirements at least one month before the wedding — earlier if you're planning a destination wedding.
3. A marriage license is required in all states. Some officiants and ministers won't even perform your ceremony if you don't have the license.
4. Each state has its own requirements for obtaining a marriage license. Check with the local county authorities (usually the county clerk's office or clerk of court) where your wedding will take place.
5. If you're doing a destination wedding, you may need to arrive at your location three days earlier or more to get your license.
6. For destination weddings, find out if you will need cash, a check or a certified check to pay the marriage license fee.
7. Some states require a waiting period once you've purchased the license, and some states will need blood tests.
8. Most licenses are valid for a certain period of time (sometimes 3 days or up to a month) and may entail a waiting period before they can be used.
9. You'll need your driver's license, a notarized birth certificate and proof of citizenship (a passport would also work). Check with local authorities for required documents.
10. If you are divorced or widowed, a copy of the decree or death certificate will also be needed. You may need to provide your after-marriage names and address.
Once you're married, the officiant will sign the license. Witnesses and sometimes the bride and groom will also sign the document. You will then take the license back to the county clerk's office for filing. In about 7 to 14 days, you will receive a certified copy of your marriage certificate via mail.
Wondering about other financial and legal details that go with getting married? Read "Checking it off the list! Taking Care of the Not-So-Fun Legal Stuff."