Do you love the idea of saving money by using your desserts as your wedding favors? We do! We call it double-duty desserts, and we've got a few ideas for your wedding.
We've created a cookie dessert table, but you can use all kinds of desserts: Grandma's famous lemon bars, Aunt Milly's macaroons or cake pops from your local baker. Any dessert or treat that can be individually packaged will make wonderful wedding favors.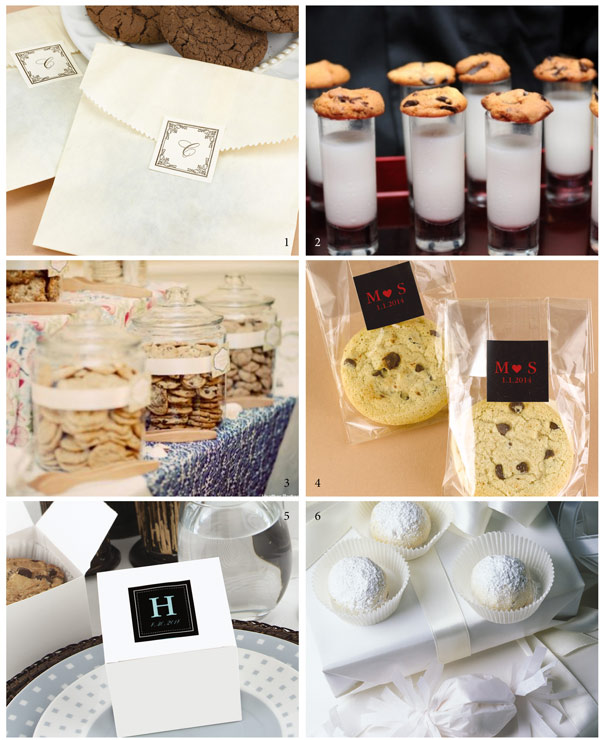 1. Favor bags are an easy way for guests to pack up a dessert and they look very nice displayed on the dessert table. Offer personalized favor labels for guests to seal the bags for a little extra touch of style.
2. We love this idea! Cookies with milk shots as favors. Put milk out in cute pitchers, on ice of course, and let guests pour their own. Or designate someone to pour for guests. We suggest shopping BulkLoad.com or BargainMugs.com for well-priced shot glasses. Check your nearest dollar store, too.
3. Decorative jars filled with cookies and accented with ribbons, favor tags and other adornments create a beautiful presentation at your dessert table. Guests just grab the cookie they want and wrap it up in a favor bag or box. As for jars, we like this deal from SaveonCrafts.com.
4. Clear favor bags show off your delicious treats and coordinate perfectly with your wedding look when accented with personalized favor tags.
5. When one just isn't enough, large white cake boxes are perfect for fitting a few tasty cookies!
6. Wrap up round cookies like an old-school candy treat! Just roll the cookies in tissue paper and tie with ribbon on each end. They're super cute and very easy.
Visit us again on Thursday to see how you can make your desserts into reception table centerpieces.
Going on now is our Sweet Sale. You can save on favor bags, boxes, tags and more for your beautiful wedding favors.