We recently put together a bright and cheery carnival theme to be featured in our online
Lookbook
. Carnivals and fairs bring back good memories and good times, the perfect feel for a fun wedding. We've combined bright yellow and bold shades of green to give this carnival look a modern twist.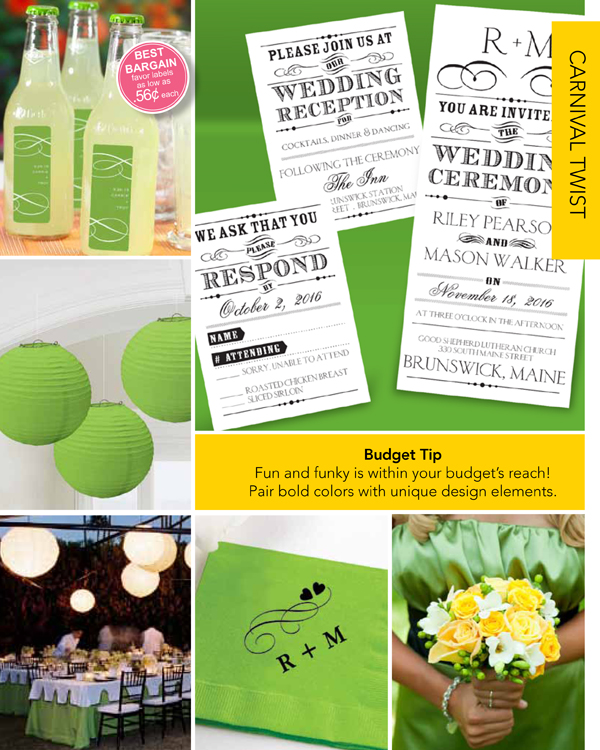 1. Add labels to bottled drinks as favors. You could even arrange them throughout the wedding as ring-toss games.
2. Decorate the ceiling, trees or dance floor with kiwi green paper lanterns.
3. Choose an invitation that mimics the style of a carnival poster with unique typography and mixed fonts. The Presenting Separate and Send Invitation is a good fit!
4. Finish your reception décor with kiwi green cocktail napkins printed with a fun design and your initials.
Have fun with food! For appetizers, serve French-fry cones, mini donuts or corn on a stick. Have a popcorn machine popping throughout the reception, and send them home with goldfish in a bowl.
Have entertainment for the kids in the form of balloon animals or a magic show. Photo booths are super popular but make sure to have some extra props for guests (hats, mustaches, feather boas, paper thought bubbles and pens). No need to rent a photo booth either. Have a corner of your reception set up with a neutral or black backdrop. Ask the photographer to spend a 1-hour or 2-hour period gathering guests to take fun photos.
Guests will surely have some great memories from your carnival themed wedding!