Here at Ann's, we're all about adding flair to the wedding day hair. Whether it's a funky veil, wispy feathers or sparkling rhinestones, unique hair accessories are a must-do for your up-do, down-do or short hair-do!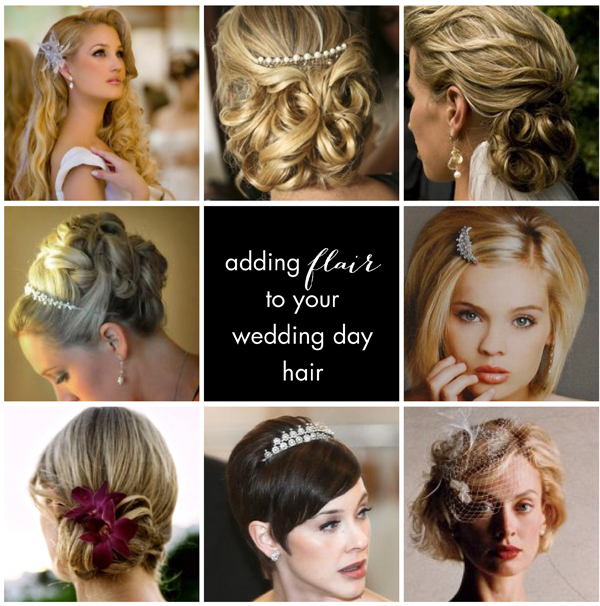 Hairbands and Tiaras – metal hairbands and tiaras with sparkling rhinestones and faux gems look gorgeous and stay in place for a no-fuss accent you'll forget is even there.
Unique Veils – Your veil will play a big role in the hairstyle you choose. Birdcage veils with vintage-style netting are super popular due to a resurgence of 1920s style. We really love the long veil set beneath the hairstyle shown below. How elegant!
Clips and Berets – An easy way to glamourize short hairstyles and an excellent way to accent the beautiful detail in long hairstyles.
Studded Bobby Pins –Easy to use and difficult to mess up, studded bobby pins are your go-to option for giving your hairstyle an added touch of beauty without a lot of effort.
Feathers – Fun, funky, glamorous, vintage, and the list goes on! Feathers can be used to create all kinds of looks, and they are HOT right now.
Have you scheduled a wedding-hair practice run with your stylist yet? You should! Read "Checking it off the list! How to Look Picture-Perfect on Your Wedding Day."