You've got the perfect dress, veil, jewelry and shoes. But what about wedding hairstyles? Makeup? Final dress fitting? Here are a few easy steps to looking picture-perfect on your wedding day.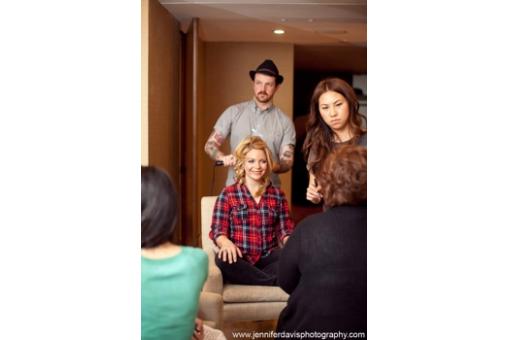 1. About a month before the wedding, check in with your stylist and set up a practice run for your wedding hairstyle and makeup (or do your own makeup to save money).
2. Bring your veil, jewelry and photos you've saved as ideas. Wear a button-up shirt for the hair rehearsal and your wedding day to protect your hair and make-up when undressing.
3. Take into consideration the neckline of your dress and your face shape. Have some photos of you in your dress for a reference when you meet with your stylist.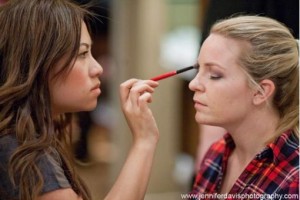 4. Choose something that reflects you. If you are a glamour girl, you'll probably want an updo, curls or a fuller hairstyle. If you like things simple, you'll want something more relaxed, graceful and natural.
5. Bring someone whose opinion you trust and if you're not happy with the styling, say something! That's what the practice run is for. The goal is to have your style decided before the day of the wedding.
6. If possible, try to schedule your wedding hairstyle practice run before your wedding dress fitting so you can see how it all looks together.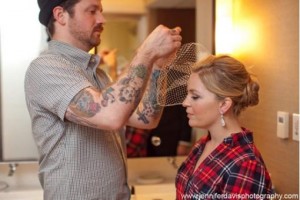 7. Finalize your wedding dress fitting and fittings for your bridesmaids, if necessary, at least one month before the wedding. Bring special undergarments, shoes, veil and accessories to see the overall look and to ensure the alterations are accurate.
8. Pick up your gown about a week before the wedding. Try it on one last time to make sure it fits.
9. Bring your mom and/or maid of honor so they can learn how your dress should fit and how to do the bustle. Also ask how to get rid of wrinkles or what to do if you spill on the dress.
With these tasks checked off early, you're sure to be an absolute knockout the day of the wedding! Visit us again on Thursday when we highlight some beautiful wedding hairstyles we love.