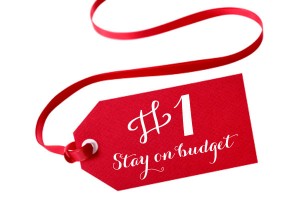 1. Cut the guest list! We know it's hard, but we guarantee it will save you a lot of money.  You can also select certain people, like coworkers and college buddies, to invite to the dance only.
2. Don't purchase a "bridal gown." Shop white bridesmaid dresses or white evening gowns at local department stores. Also look for credible online sites selling wedding gowns, bridal shops that include tailoring in the price of the gown and check out those online bridal classifieds where you can find dresses for sale that have never been worn. Don't be afraid to shop at a bridal store where you can try on the dresses and then look online for them afterwards.
3. Schedule your wedding date in the off-season. Late fall and winter months are generally cheaper than spring, summer and early fall. Choose any day but Saturday, or choose to have a morning/early afternoon wedding. Imagine how beautiful a brunch or lunch reception would be, and how much cheaper! Destination weddings are often on a weekday since all the guests are on vacation with you.
4. Find a cheap reception location: outdoor parks, a family member's place in the country, church halls or something totally new like a bowling alley. Make sure to weigh the cost difference between a facility that provides the tables, chairs and dishes for you versus a facility where you will have to rent those things.
5. Find a reception location that allows you to bring alcohol in. Many wedding venues increase the cost of alcohol way beyond what you could purchase it for yourself.  Liquor stores often give discounts to customers purchasing bulk amounts of liquor, and you can typically get an even deeper discount if you pay cash for it.
6. If you can't bring in your own alcohol, limit the open bar to a few wines, a few beers and a few signature drinks. Guests can pay for any drinks not included in that selection. We've also seen couples use tickets. When using the ticket method, you purchase a certain amount of tickets in advance and someone at the reception is responsible for sharing them with the guests. Each guest should get one or two tickets, but you can give additional tickets to the bridal party and anyone else you feel should get more.
7. Choose flowers that are in season or go with fake flowers. Roses, hydrangeas, orchids and stephanotis are all flowers that are more expensive.  If you would like to have real flowers in your bouquet but would like to keep the cost low, some inexpensive flower options include carnations, alstroemeria, gerbera daisies and greenery.
8. Choose inexpensive menu items. Chicken, turkey and pork are cheaper than other meats, and any kind of pasta or rice entrée is an economical option. Buffet's are often less expensive than having meals served to your guests at their tables.
9. Choose a small wedding cake for display and use cheaper sheet cakes for serving to wedding guests. If you like different flavors of cake, this is your opportunity to choose a few of your favorites depending on the size of your wedding.
10. Negotiate, negotiate and negotiate some more. Most prices for wedding vendors are not set in stone. Make vendors aware of your budget. That way they will show you things completely within your budget or just over it. Don't be afraid to tell them you like their service, but it just doesn't fit into your budget. Often times they will try to lower the price where it is agreeable between the both of you or they may have payment plans available.