We've been doing research online, reading wedding magazines, attending weddings and talking with colleagues to come up with our 2013 Trend Watch for Brides. We've also included our recommendations for affordable items to help you achieve the look!
1920's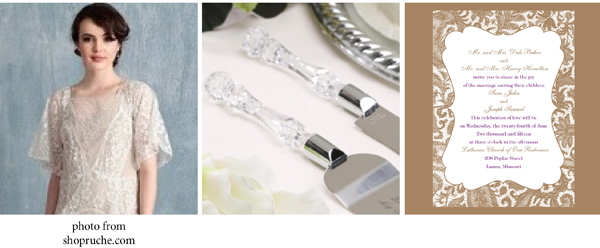 In 2013, brides will be most inspired by old world glamour with cinematic and literary influences like The Great Gatsby, Downton Abbey, Anna Karenina and A Royal Affair. 20s fashion included dropped waist dresses, beaded gowns, ornate lace details, long strands of pearls, costume jewelry, gold-tone jewelry, cloche style headpieces or beaded headbands. Receptions were more formal with specialty musicians like jazz trios, chandeliers, crystal touches, lush centerpieces, luxurious textures, beautiful coloring, Art Deco invitations and a black-tie dress code (think top hats for the groomsmen!).
Get the look of crystal without the price and go acrylic! Our acrylic cake stand and serving set are elegant and affordable.
Patterns and Prints
Incorporating patterns into wedding day décor is HOT in 2013! Couples will be using a signature pattern or print in their wedding design. Bridesmaids might wear striped skirts or carry bouquets with handles wrapped in fabric. Don't forget the coordinating hand clutch (have you seen Jenna Lou Designs?) and groomsmen with print ties and boutonnieres made from fabric. Patterns to look for include chevron, stripes, gingham, paisley, houndstooth and polka dots. Prints can help you create a cohesive look from the invitation and favors to the table linens.
Create easy and inexpensive wedding favors with damask favor boxes and sweet ribbon favor boxes, both of which feature distinctly beautiful patterns.
Birds

The bird theme continues to be popular into 2013. Lovebirds are associated with love and romance so they fit perfectly with weddings. Some cute bird-themed ideas include using different styles of birdcages as decorations, centerpieces or card holders. Add touches of feathers to your centerpieces, bouquets or boutonnieres. Toss birdseed (instead of rice) and use porcelain birds for your cake topper. Look for bird/feather accessories such as jewelry, shoe adornments and hairpins.
The Love Birds save the date and wedding invitation is one of several bird-inspired designs available on Ann's Bridal Bargains. It's a beautiful introduction of your bird-themed wedding celebration.
Cocktail Hour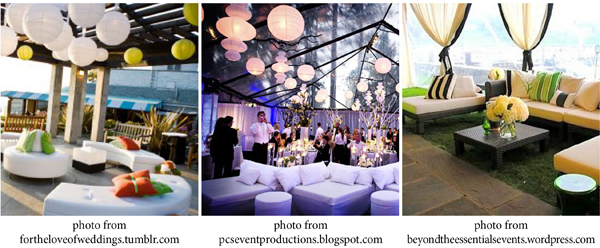 We've seen reception lounges in a variety of styles that guests may sit and relax as they sip cocktails. Think soft couches, coffee tables, mood lighting and big overstuffed pillows! Themed bars are very popular. Ladies love a champagne, vodka or wine bar and the men will appreciate the scotch or bourbon bar. Another option is to have signature drinks fitting the theme of the wedding or favorites of the bride and groom.
Give your signature drink a fun name and have the name and recipe printed on menu cards. Place the cards on reception tables and at the bar.
Colors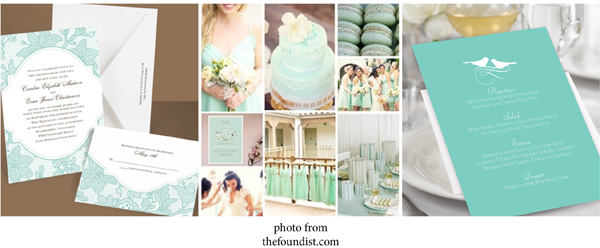 Mint has a fresh and chic retro feel. Emerald Green (Pantone Color of the year for 2013) Shades of blue including pale blue, sea foam blue and navy. Gold will be everywhere in 2013 from gowns to décor. Consider gold ink for your wedding invitations for a unique touch of glamour.
Introduce your color scheme with the right invitation and use wedding napkins as a cheap way to add color to your wedding reception decorations. You will find discount wedding invitations and napkins in a variety of greens and blues here at Ann's.
Farm or Lodge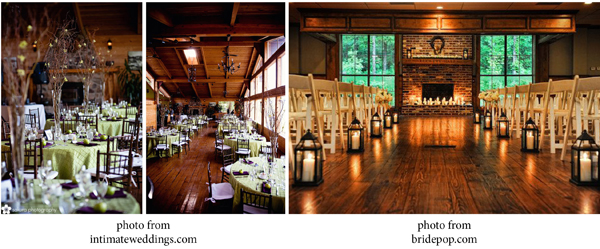 Rustic farm, barn or lodge settings are big. Vintage décor with eclectic touches add a more formal feel. You could also achieve that more formal feel with the type of flowers chosen for centerpieces, surround the reception with candlelight, harp or a quartet of musicians playing during cocktail hour.
Use glass cylinders or canning jars to create rustic reception table centerpieces. Fill with pine cones, branches, autumn leaves or other natural elements for cheap decoration.
Bite-Sized Menus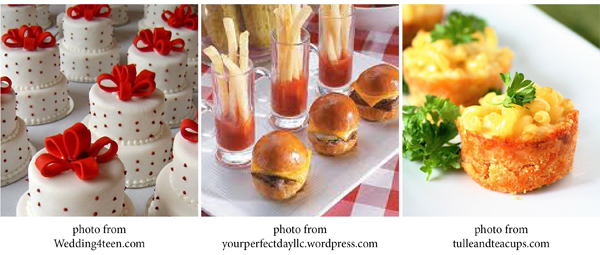 Consider having appetizers and desserts of bite-sized proportion, which look trendy and stylish. Guests will enjoy the idea of taste-testing foods and avoiding that "stuffed and tired" feeling. Serve small "mini" cakes instead of a large wedding cake surrounded by a variety of sweet candies, truffles and cookies for dessert.
Be sure to have plenty of wedding napkins on hand for guests to grab as they're taking appetizers and desserts. Personalize your napkins with a cute phrase to fit the theme like "We're taking a bite out of love."
Pinterest
Brides are using Pinterest to show off their personal style and collect a "Wedding Board" of inspiration.  You can create boards and share them with your friends, or you can keep them private so you are the only one who sees them.  Either way, Pinterest is a great way to collect ideas and inspiration for your big day!  Get started by browsing Ann's Pinterest boards with budget savvy ideas, etiquette and much more!