It's exciting to think about your upcoming wedding and all the plans and dreams you have. Then reality sets in and you realize how quickly the cost of those big plans is going to add up. Time to start saving for that big day!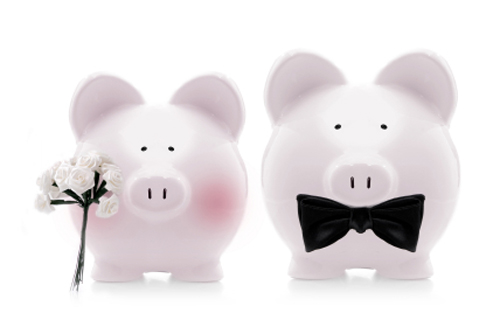 Here are a few quick tips that will help you save for your wedding:
1. Set a budget. Think about what type of wedding you want, the size, location, etc. Once you have your arms around a specific number it will be easier to develop a plan for saving.
2. Plan to put away a specific dollar amount each week. Even if it's a modest amount, it will add up over a year's time. Or, take your wedding budget and divide it by the months until your wedding day and let that determine your monthly savings amount.
3. Find a credit card with benefits or cash back. If you find a credit card that offers air travel, you could earn airfare for your honeymoon. Be sure to verify interest rates and terms before you sign up.
4. Curb your spending. Consider whether the item is a want or a need. Find ways to sock away some cash by limiting unnecessary purchases, stop eating out, or cut back on extras.
5. Barter or trade for what you need. You may have friends or acquaintances that can help with some of the items needed for your wedding. Maybe you can take care of the neighbor's taxes in exchange for their desktop publishing services.
If you're looking for great ways to save on wedding services, decorations and more, see what other brides did and check out our Budget Talk Boards. The boards cover Ways to Save on Services, Ways to Save on Food and Ways to Save on Other Necessities.