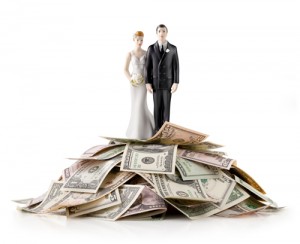 Congratulations – You're engaged! Now comes the fun of planning your special day! But where do you begin when there are so many decisions to make?
An easy first step is to create your budget. A budget will be the most important factor in planning your wedding. To give you a general starting point, here is a breakdown of percentages for important wedding needs.
Expense Percentage
Ceremony                                                             2%
Reception                                                           48%
Attire (bride and groom)                             10%
Flowers and decorations                                8%
Music                                                                      7%
Photos & Video                                                10%
Wedding Stationery                                          3%
Wedding Rings                                                    3%
Transportation (limo)                                      1%
Gifts for wedding party                                    3%
License, Fees, Tips, taxes and overages   5%
Wedding Consultant (optional) up to 10% of budget
Your budget is not only a way to keep track of what you're spending, but it's also a handy checklist of things that need to be done. For a printable wedding budget worksheet, click here.
This general guideline will help you decide where your money will be best spent. However, every couple's priorities are different and there may be areas that are more important to you. You can certainly allot more money to those areas and scale back the ones that are less important.
Be sure to check out the blog posts in our "Wedding Planning Guide." We go into detail about each of the topics listed above to help you make well-informed decisions.