Whether you're a romantic or just love the thought of getting married in the month of February, you'll love this valentines inspiration board we've put together for you.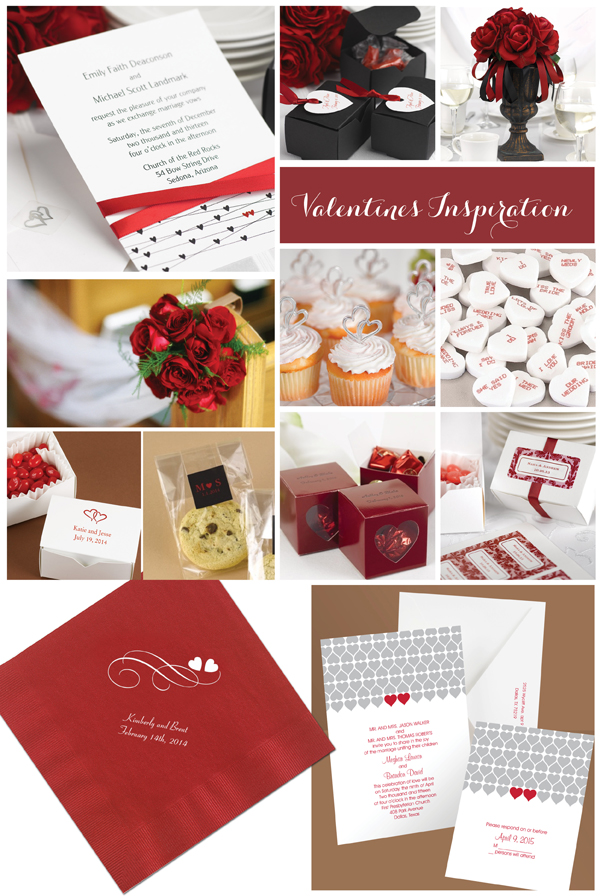 Your color palette will simply be red. Tie your look together with red roses, red ribbon and red napkins. Favors can be fun, personalized with hearts and your names and filled with chocolate truffles or Red Hots.
Conversation hearts are a must for Valentine's Day but if you want them to blend more with your wedding colors, we sell wedding Conversation Candy Hearts!
Want to send guests home after the reception with a late-night snack? Create cookie bags they can take with them as they leave the reception. Add this Initials and Heart – Ebony favor label. Love the heart monogram!
Cupcakes are very popular and Double Heart Cupcake Picks are an inexpensive way to decorate them.
Don't forget your invitation, which sets the whole tone and mood for your wedding. Ann's has several choices that feature hearts in many styles from traditional to a more contemporary look. Just search "hearts" on our home page and you'll see everything Ann's has with hearts.
MORE IDEAS:
•  Cut hearts out of solid red and red-patterned papers. Sprinkle these paper hearts in all sizes around your tables, guest book table or have your flower girl sprinkle paper hearts down the aisle instead of petals (CUTE!).
• Set up a kids' activity table with all of the materials for making valentines. Ribbon, paper, doilies, stickers, pipe cleaners, stamps, heart punches, glue sticks and kid-safe scissors.
• Shop the clearance items after Valentine's Day to get great deals. A little planning now will save you some big bucks!