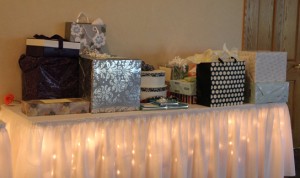 In the joy of receiving gifts, it's easy to forget to keep track of who gave what. Some gifts will come to your home prior to the wedding, some will be brought to your ceremony/ reception and others will arrive after your wedding. How do you keep track of the gift, the giver and your thank you?
There are several great ways to keep track of these details. For some, a pen and paper in a well-kept spot will suffice. For others, an Excel spreadsheet works best. You may have already started one for your wedding invitation list that you can add a few columns to. Some websites have free tracking forms for you to download and print, like www.WeddingLDS.com.
Keep gift receipts with the gifts until you know if you're keeping it or exchanging it. Re-gifting is an option, but it's risky. When storing the gifts for future re-gifting, make a note of who gave you the gift. Think about whether the giver will notice you don't have the gift or notice it in the home of whomever you plan to give it to. If you receive checks, be sure to endorse them right away and write "For deposit only" next to your signature.
You can start sending thank you cards as soon as you start receiving gifts. If you receive a gift prior to the wedding, send a thank you card right away — one less to worry about later. You should have all thank you cards written and sent within three months of your wedding. You don't have to do the thank yous all in one sitting. Break up the task into smaller, manageable amounts.
Not sure what to write? We offer a handy little book called The Bride's Thank You Guide. It's filled with samples and etiquette tips you'll find very helpful.
Oh, and don't forget to check out our selection of affordable thank you cards. We offer traditional thank you cards, photo thank you cards and thank you postcards. You'll love the stylish designs.