Choosing an invitation may be difficult if you're not sure how to tie your whole wedding together with flowers, centerpieces and color. We pulled three of our new seal and send wedding invitation designs and we've offered wedding bouquet ideas and centerpiece/ décor ideas to match.
Budget Tip: I love fresh flowers but depending on the time of year and the availability of your flower, silk flowers are a beautiful and affordable option. You can do a silk flower bouquet or mix them in with real flowers to simply cut down costs. When buying silks, make sure the silk petals don't fray.
This seal and send invitation has shades of wine, gold, orange and green. Create bouquets with pops of these colors and include succulents, a trendy way to add unique texture and color. Centerpieces don't have to be extravagant or all match. Mix long tables and square tables and change up your centerpieces using the same flowers and colors.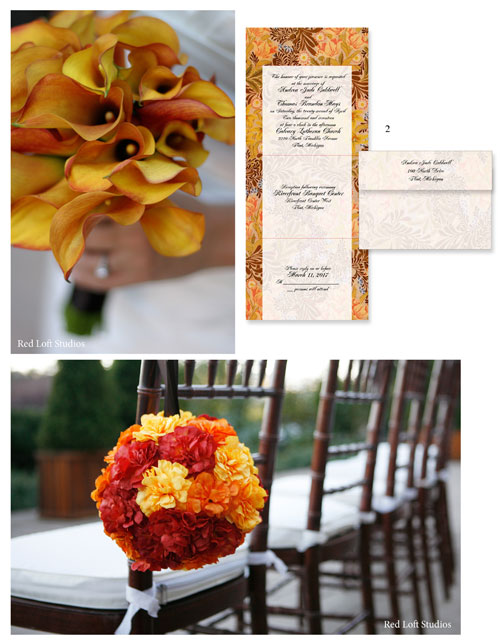 This seal and send has the same floral pattern, but changing the colors to warm shades of gold, orange, brown and dark olive gives it an entirely different feel. Check with your florist to see if they have sunrise orange, rust or autumn gold calla lilies available. Calla stems can be expensive so compare the price of fresh versus fake. Pomanders are beautiful as decorations for the aisle or as something unique for the flower girl to carry. Pomanders are easy to DIY using a Styrofoam ball, hot glue, ribbon and silk or fresh flower heads. We recommend a full, dense flower like a mum or carnation.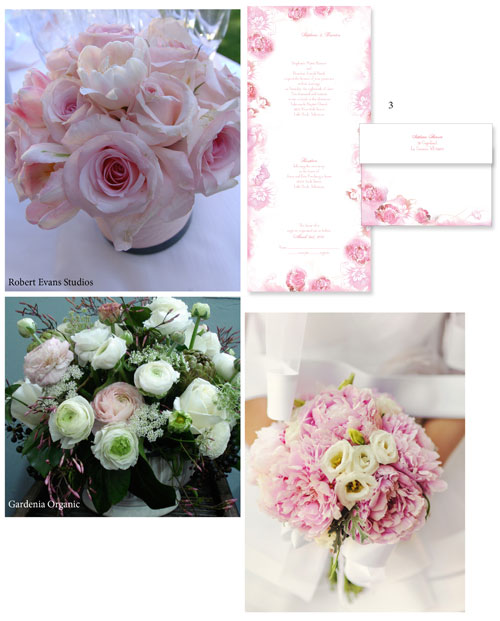 I love this seal and send with its soft shades of pink florals! Using shades of pink opens up so many options from flowers to bridesmaid dresses. Simple, inexpensive glass cylinder centerpieces wrapped with lace and ribbon can be filled with fresh roses and tulips. You could mix in wedding whites using Queen Anne's Lace flowers, ranunculus, peonies and spray roses.
Want to save a little more on your flowers? Find a flower wholesaler and purchase buckets of flowers and arrange them yourself. Find vases or fun containers at your local thrift shop or dollar/discount store.
Read What's the deal on Seal and Sends to see why seal and send wedding invitations are a great value!