Green is a BIG color this year. Not only is emerald the Pantone color of the year but the recent release of Oz the Great and Powerful has made green super popular. Below we've gathered some of our favorite options for incorporating shades of green into your wedding.
Remember, Ann's offers the option to "Pick Your Color" for many of our discount wedding invitations. So if it's shown in a color you're not interested in, just click "Personalize it" to choose something else.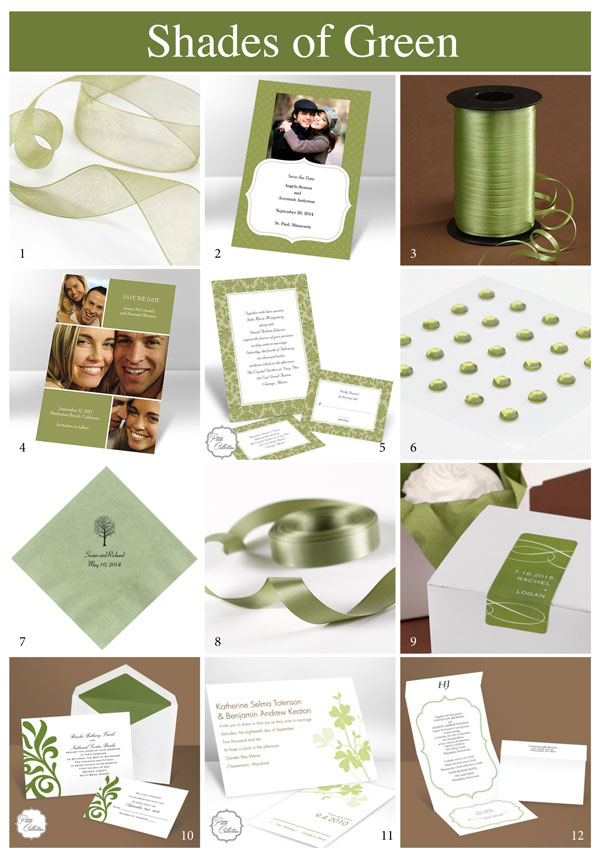 1. Olive Chiffon Ribbon is perfect for wrapping around invitations or adding color to favors.
2. Love the pattern trend? The Crest Photo Save the Date in kiwi features a subtle pattern around your photo and wording.
3. Leaf Curling Ribbon is perfect for hanging lanterns from the ceiling or just letting the curled ribbon hang down for color.
4. The Close Up Photo Save the Date in kiwi has room for three of your favorite photos. Choose three from your engagement shoot or tell a story with photos of things you like to do together (travel, biking, cooking, etc.)
5. The Clearly Refined Invitation is from our Petite Collection. These slightly smaller invitations leave a big impression!
6. Add a touch of sparkle to your invitations with Olive Rhinestone Stickers.
7. Dinner Wedding Napkins in dark sage are perfect for adding color to your wedding reception tables. Grab some Cocktail Wedding Napkins for the drink bar, dessert bar or the morning brunch after the wedding.
8. Sage Satin Ribbon is available in two sizes, 3/8" and 5/8", so you can create the perfect accent for invitations, bouquets, reception table centerpieces, etc.
9. Flourish Favor Labels in kiwi may be added to large favor boxes, wrapped around cloth napkins or added on the back of an envelope. Use your imagination!
10. This Flair for Style Invitation in cloverleaf ink is a "Pick Your Color" invitation. If you want a different shade of green but love this invitation, play around with the ink color choices and find your perfect color.
11. The Floral Shadow Invitation features fresh, modern design — perfect for spring!
12. Graceful Frame is a Seal and Send invitation featuring grass ink. Seal and sends are affordable, attractive and convenient. They include the reception wording and the response card all for one low price. Just, fold seal and send.