Dreaming of a truly romantic wedding? We've created an entire look around Gilded Romance featuring shades of pink, lots of flowers, candlelight and gold accents sparkling everywhere. Let's not forget the Regal Flourish Invitation that inspired it all!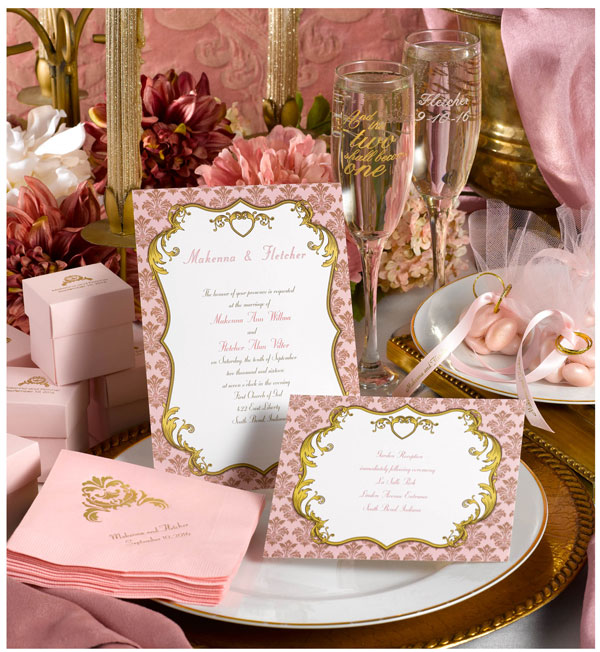 Add budget-friendly accessories accented with gold foil personalization and pink satin or pink chiffon ribbons throughout your tables and decorations. Try a traditional favor like a tulle circle around Jordan Almonds tied with personalized satin ribbon. We added gold scroll rings for a rich finish.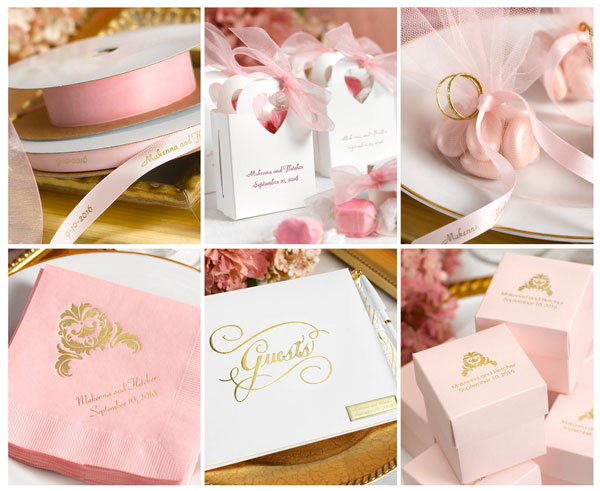 To give the illusion of an expensive wedding, accent your look with plenty of gold touches. Decorate with gold chargers under dinner plates. You can find plastic chargers at most craft stores for $2 or less. Surround your tables with candles and gold candle holders. A great time to buy gold candles is after the holidays when they're on sale. You can mix and match the styles and sizes of candle holders, just keep with the same gold tone.
Can't find enough gold items? Gold or gold-glitter spray paint is a great way to turn an ordinary item into something beautiful.
Decorate your guest book table with non-matching, gold-framed black and white photos of you and your husband and wedding photos of your parents and/or grandparents. Your family and guests will enjoy the nostalgic touch.
Our Gilded Romance look features the following products from Ann's Bridal Bargains: Pink Chiffon Ribbon; Pink Satin Ribbon; White Heart Favor Box; Gold Scroll Rings; Pink Netting Circles; Classic Pink Cocktail Napkins; Guest Book with Gold Lettering & Pen; Pink Favor Boxes.