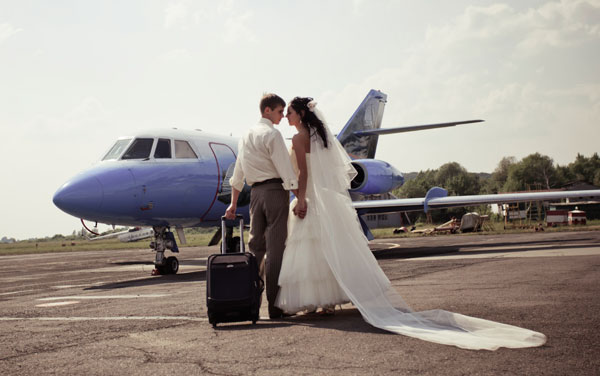 We scoured the web for the best locations to host an affordable destination wedding, but nothing was very clear about where the cheapest destination weddings really are. So we decided to call a local travel agency that specializes in destination weddings.
Erica at Inspiration Travel in Albertville, Minnesota, was a huge help! She was straightforward about the best budget options out there and she had great advice about how to save money. It was clear Erica has lots of experience in destination wedding planning. Here are her top choices for budget-friendly destinations.
1. Mexico
In all of her travel research, Erica said Mexico almost always comes up as the cheapest destination wedding option and the best value for your money. You get a beautiful tropical setting, beach-side wedding, private reception, luxury hotel and all the drinks and food you could want for an extremely affordable price. She recommends looking into Puerto Vallarta and the Riviera Maya.
2. Cruises
We love this idea! There is no lack of options for activities, entertainment, food and drinks on a cruise. Best part is, cruise lines now offer beachside weddings, which means you could get married in an exotic location that would have otherwise cost a fortune for airfare and lodging. Carnival offers the cheapest destination wedding options, but if you're leery due to the bad publicity of late, Erica recommends Royal Caribbean or Celebrity for some very affordable packages as well.
3. Staying Stateside
We started our research thinking there would be plenty of affordable destination wedding locations within The United States, but Erica informed us that couples are not as likely to find great budget options within the U.S. Even if a couple finds a location that's cheap to fly to and has nice, affordable lodging, there is one thing that spoils the budget — a private wedding reception. No matter where you travel to, you're still paying U.S. prices for food and drink. Keeping the guest list small helps, but you still run into high minimums for reception spots.
"What you have to keep in mind is that lots of reception venues within the United States have food and drink minimums, meaning you will have to spend a minimum of $10,000 for some reception locations. What I have seen couples do in the past to avoid this cost is have their reception at a restaurant (in a private room or reserved area), which is much more affordable for smaller wedding groups," said Erica.
That being said, affordable destination weddings are still possible in The United States. Erica recommends Orlando, Florida. Orlando has inexpensive flights from basically anywhere in the U.S., hotels are cheap and there are affordable reception options. Another way to save is have a morning wedding and follow with lunch/brunch. Lunch menus are usually less expensive, and many times there is no food and beverage minimum for day events in the middle of the week.
4. Las Vegas
We naturally thought Las Vegas would be a great place for a budget destination wedding, but couples will still run into the problem of private receptions being too expensive. However, Erica mentioned the Flamingo Hotel and Casino offers excellent wedding packages. The couple can have a beautiful garden wedding within a tropical courtyard, and then follow it up with a small reception offering drinks and hors d'oeuvres in one of the hotel's suites.
5. Jamaica and The Dominican Republic
Although Mexico is your best bet for finding cheap destination wedding locations and packages, Erica also recommends Jamaica and The Dominican Republic. Both are gorgeous locations with a lot to offer and many of their wedding packages are very affordable.
A big thank you to Inspiration Travel for sharing such helpful information. We know our bargainista brides will appreciate it. Check back next Friday for the most important topic of all! We'll share some advice on how to keep costs down when planning your destination wedding.