Save the dates are a must for destination weddings. They should be sent as soon as you know the date, location and have decided on a guest list. This should be at least 6 months in advance. If your wedding is planned over a holiday or high travel season, send your save the date closer to a year in advance. Find some fun themed save the dates at Ann's for destinations like Las Vegas or tropical locals.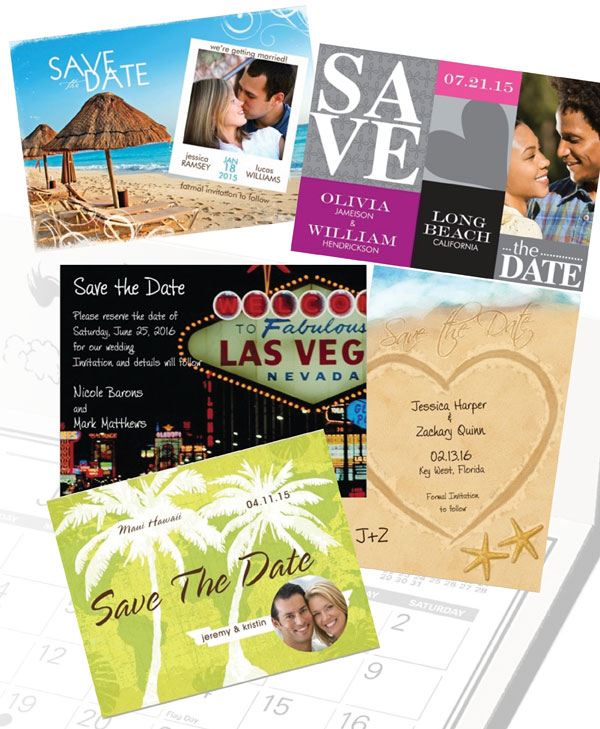 Create a wedding website (available for free through Ann's collaboration with Wedding Wire) that explains travel options, hotel information, local activities, planned activities, typical weather and wedding-related events with time, location and suggested attire. Your wedding website does not have to be complete by the time your save the date is sent, but include the website address anyway and ask guests to check back often for more updates. You should have the information completed by the time you send wedding invitations.
If you send save the dates, send your wedding invitations at least eight weeks before the wedding. If you choose not to send save the dates, you will want to send wedding invitations in plenty of time for guests to start planning. We recommend at least 6 months in advance.
Welcome packets are recommended for all of your guests. You can be as creative or as simple as you want with wedding favors or appreciation gifts, but you will also want to give guests a contact for questions or problems. You can list your wedding coordinator, best man, maid of honor or parent (preferably not the bride and groom). Then list room and phone numbers where they can be reached.
Wondering what locations are best for an affordable destination wedding? Check back next Friday. We'll cover your most budget-friendly options according to Inspiration Travel.