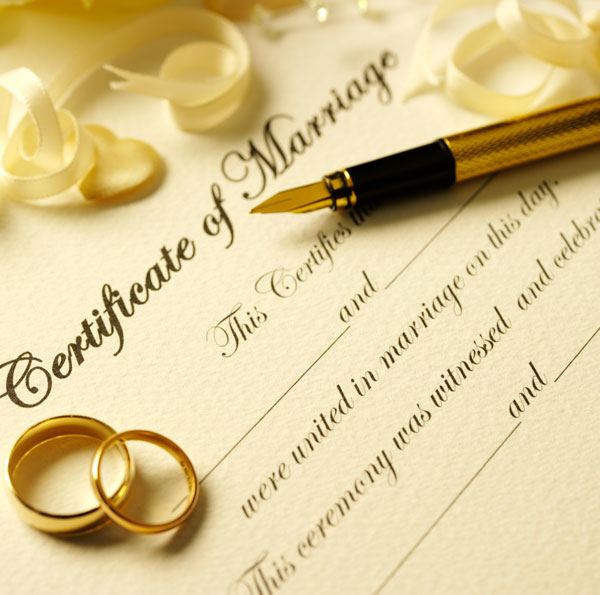 Marriage laws differ from state to state and country to country. Some places make it easier than others, so you will need to do some research before choosing a location.
If you're planning a destination wedding within The United States, check out www.usmarriagelaws.com. Places like Las Vegas make obtaining a marriage license very easy — imagine that! If you plan to travel to another country, the U.S. State Department offers basic guidelines for couples to consider. After reviewing those, go to the website of your chosen country's U.S. tourism office, consulate or embassy to review the marriage laws. Some countries make this process very easy while others make it quite difficult. Jamaica allows a couple to be married 24 hours after arriving to the country if the couple has applied for a marriage license. France, however, requires 30 days of residency for either the bride or groom before getting married.
Find out what documents you will need to provide and what paperwork is involved for your destination. The paperwork can become expensive. Not only does the marriage license itself cost money, but there are sometimes hidden fees you wouldn't expect. Many countries require documents to be translated into the local language. You may need blood tests once you've arrived in the country or you might need to arrive several days prior to your wedding. All of these costs can add up.
When you arrive home, you will want to call your local marriage bureau to see if there is any additional paperwork you need to complete. If you had a religious ceremony overseas, you will want to contact your place of worship to see if there are any final steps required for recognizing the marriage.
If all of this seems overwhelming, don't worry. There is a simple solution. Have a civil ceremony in the United States to take care of the legalities. Keep it to yourselves though. Guests may not appreciate spending the time and money to attend a wedding knowing the couple was already married.
Check back next Friday to find out what you need to do to keep guests informed and updated while planning your destination wedding.