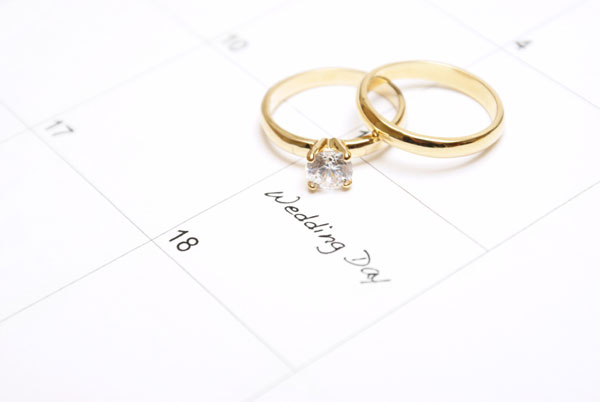 Keep Your Bridal Party Informed
A week or two before the wedding, inform the bridal party about their wedding day responsibilities to ensure everyone knows their role and your big day will go smoothly.
Here's a checklist for keeping your bridal party informed.
• Finalize the rehearsal and wedding-day schedule and provide an itinerary to your bridal party 1- 2 weeks before the wedding. We can help you, just read "Putting Together Your Wedding Day Itinerary."
• Create a list of every member's contact information, along with the names of people you've asked to perform specific tasks and deal with vendors should problems arise.
•  Give a copy of the contact list to your personal attendant, wedding coordinator or whoever you have appointed to take care of wedding day logistics so they know who is responsible for what tasks.
• Explain any special ceremony seating arrangements to the head usher.
• Choose someone to take care of the gratuity envelopes for the officiant and reception vendors. These envelopes should be delivered after the ceremony and reception.
We don't recommend going overboard on communication. The goal is to make sure everyone is informed of his/her role without making anyone feel overwhelmed. So put together a casual itinerary for the bridal party. They'll appreciate feeling informed and prepared.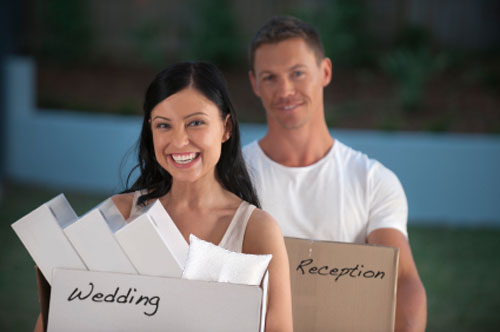 Organize Ceremony and Reception Items
Use a convenient portable container to keep day-of ceremony and reception necessities all in one spot. Talk with your ceremony and reception venues to see when these items can be dropped off: one week before? 2 days before? day of? Then designate someone to take care of bringing the items to the venue at the appropriate time.
Here are a few things you may need for the ceremony:
marriage license
unity candles
ring pillow
flower basket
guest book – be sure to personalize the first page by filling in the blanks!
card box
gratuity envelope
bird seed, rose petals, bubbles, etc., for your send-off to the reception
your emergency list of all wedding vendors with phone numbers
Read Last-Minute Items You May Have Forgotten for more items you may need.
Here are a few things you may need for the reception:
guest book from ceremony location
card box from the ceremony location
photo props
toasting flutes
cake server and knife
toss garter
toss bouquet (if delivered to the ceremony site with other flowers)
bouquet holders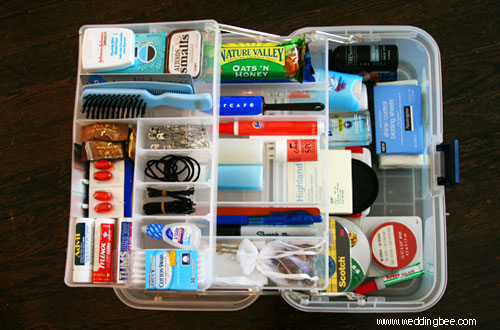 Assemble an Emergency Kit
Also be sure to prepare an Emergency Kit of various items that may come in handy. Your personal attendant or Maid of Honor may already have this ready, so check with her to find out for sure. We've seen brides purchase cute clutches and create an "emergency kit" for each bridesmaid as a unique and useful gift.
Putting some effort into planning a week or two before the wedding will surely pay off! You'll feel so much more relaxed the day of and you'll be able to enjoy what really matters, each other.