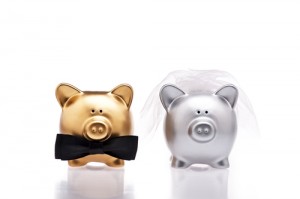 If there's one life event that seems to turn all your friends, relatives, co-workers, and strangers into experts, it's a wedding.  Literally everybody and their mothers are going to have some sort of essential advice on planning a wedding.  They'll tell you which days of the week are best for weddings, which colors you should make your bridal party wear, and which venues, florists, caterers, and priests will be the least expensive.
When you're planning a wedding on a budget you're going to need all of the help and tips about cheap wedding invitations online that you can get, but cheaper rental prices and catering discounts can be hard to get if you don't know somebody.  These money saving bits of advice can work for everybody, so get ready to pay attention if you're ready to save some real money on your wedding costs.
Plan Accordingly
Almost every person reading this is going to want to plan their wedding during the weekend.  But if you want to save money and have a weekend wedding you should avoid the most popular weekend wedding date: Saturday.  Saturdays are by far the most popular day to have a wedding ceremony and reception, and the venue you plan on having them at knows that.  Booking fees tend to go up on Saturdays, so consider having your wedding on a Friday or a Sunday.
If you want to take strategic planning a step further, try to avoid having your wedding during the "wedding season".  Most people believe that wedding season starts in April and ends in late June and early July.  A lot of brides plan their weddings during this time because they want to weather to be warm and nice for their ceremony.  You can have the same great warm weather if you have your wedding during August or early September, and you won't have to pay the high booking fees that come along with planning your wedding during the popular marrying season.
Decorate With In Season Flowers
A lot of couples end up spending hundreds of dollars on their floral arrangements because they choose flowers that aren't in season.  Flowers have growing seasons just like your favorite fruits and vegetables do, and if you choose to decorate with a flower that isn't in season you're going to end up spending far more than you have to on your floral costs.  This website can help you learn which flowers are in season the month you're planning your wedding so you can ensure you pick a flower that won't break your budget.
Scale Back the Reception
The Association of Bridal Consultants did a survey on the average costs of an American wedding, and people spend the most on rental fees, venue fees, and catering.  The average couple will spend $2,207 on bar services and $4,339 on food services, that's a little more than $6,500 on feeding your guests.  There is a way you can save money on your reception without having to sacrifice having the reception you want.  Instead of serving your guests a full meal, have the caterer serve an array of tapas.  The tapas will give your guests a lot more menu variety than a meal would, and they're much cheaper than full dinners.  You can also save a lot on your bar budget if you cut out hard liquor and only serve beer, wine, and champagne.